Konrad Adenauer Foundation (KAS) Cambodia under new leadership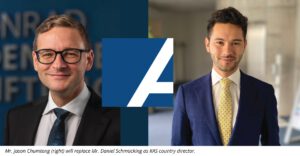 On June 22nd, the welcoming ceremony of the new country director of Konrad Adenauer Foundation (KAS) in Cambodia, Mr. Jason Chumtong, was held at Raffles Hotel Le Royal in Phnom Penh. Before joining KAS Cambodia, he had worked with the foundation for five years in Berlin, where he held the position of policy advisor for artificial intelligence.
The event also marked the farewell of longstanding country director Mr. Daniel Schmücking, who after five years in Cambodia is now going to Berlin to head the Political Communication Department and Adenauer Campus of the foundation. Since April last year, he had also been appointed to head the KAS country office in the Philippines. During his speech, Mr. Schmücking recalled his productive time and diverse working environment in Cambodia, while extending his gratitude towards all partner organizations and especially towards his young former team at KAS Cambodia.
German ambassador Stefan Messerer, who gave the opening remarks, expressed his sincere appreciation for the meaningful work that KAS Cambodia has conducted under Mr. Schmücking's leadership and voiced his anticipation for working with Mr. Chumtong in the future.
GBC would like to seize this opportunity to wish all the best to Daniel in his future career and to warmly welcome Jason to his new position. We are looking forward to continuing our excellent collaboration.