Launch of cooperation between GBC/EuroCham and AHK Vietnam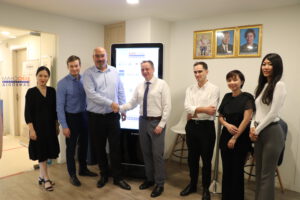 GBC was pleased to welcome a delegation from German Industry and Commerce (AHK) Vietnam on June 14th for talks in Phnom Penh. The delegation was lead by Mr. Marko Walde, Chief Representative at AHK Vietnam, who arrived with his regional management team. Topics included, among other things, opportunities for upcoming cooperation between the two business chambers.
The visit followed a change of responsibilities for activities carried out by the AHK network in Cambodia, Myanmar, and Laos: Since May 2023, AHK Vietnam has taken over this responsibility, a function previously held by AHK Myanmar. The delegation's visit entailed meetings with various political and economic stakeholders in Cambodia, including a joint dinner with the German ambassador Stefan Messerer, together with GBC's Tassilo Brinzer and Christoph Janensch.
On June 15th, GBC organized a German networking night at HOPS Brewery to support its new partner AHK Vietnam in connecting with the local German business community.