Fact Finding Mission to evaluate local producers of Natural Ingredients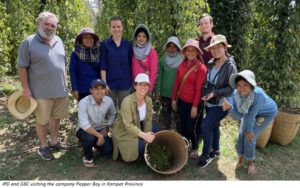 From June 26th to June 30th, two experts from the German Import Promotion Desk (IPD) are conducting a Fact Finding Mission in Cambodia to assess the possibility of making Cambodia an official IPD Partner Country. Currently there are 16 partner countries from four different continents, and two additional countries will be selected by the end of this year. Cambodia is one of four countries which are shortlisted for these two vacancies.
One of the main selection criteria is the availability of local producers of natural ingredients for food, cosmetics and health products who are either already exporting to Europe on a small scale or who are on the verge of doing so. In order to find out more about local producers and their products, IPD is not only visiting local ministries and business chambers such as EuroCham and GBC, but also more than half a dozen companies all across the country. GBC is delighted to have facilitated and accompanied a large number of these visits.
If Cambodia is selected, IPD will start directly linking local SMEs with European buyers in 2024 through participation in international trade fairs such as Biofach, Anuga & Sial, Food & Health Ingredients and in-cosmetics. The program also includes preparatory trade fair training sessions to further support these companies to enter the European market.
The German Import Promotion Desk is a project sponsored by the German Federal Ministry for Economic Cooperation and Development (BMZ) and was launched in October 2012. The aim is to increase imports from developing countries and emerging markets to Germany and other European countries in a sustainable manner. IPD is supported and implemented by its two initiators, namely the Federation of German Wholesale, Foreign Trade and Services (BGA) and sequa gGmbH.