Posted on: November 29, 2021
Selected Cambodian companies showcased via international virtual trade fair platform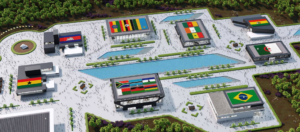 Photo: The Cambodian virtual pavilion can be visited online
During its opening event on November 22nd 2021, an international virtual trade fair platform featuring 16 Cambodian companies went officially live. The platform will be available until 29th of April 2022 and is the result of a number of virturtual trade fair pitches conducted around the world by the GIZ Business Scouts for Development Programme and their local partner organizations, in Cambodia the GBC and EuroCham Cambodia.
The platform can be accessed here: https://messepitch2021.expo-ip.com/ (a one-minute registration is required)
Throughout the year 2021, 175 companies from 17 countries in Asia, Africa and South America including 27 companies from Cambodia presented their products to an international expert jury during a five-day online event in July. Subsequently, 16 successful Cambodian finalists who offer an interesting range of sustainable products were chosen to move on to the next stage of the programme. Besides being promoted on the platform, this will also include embarking on a journey to Europe to present their companies and products at internationally renowned trade fairs, tapping new business opportunities.
To ensure the physical trade fair participation is successful, the Cambodian companies will take part in a certified preparatory training in cooperation with the Association of the German Trade Fair Industry (AUMA), scheduled to start in mid-January 2022. With the COVID-19 Pandemic still in full swing in Europe (e.g. causing the renowned German "International Green Week" fair to be officially cancelled), it remains to be seen which trade fairs can actually take place in physical form throughout 2022.
Do not miss the opportunity to take a look at the virtual trade fair booths from Cambodia and beyond!