Posted on: November 26, 2021
Introducing 1st AEEBF Special Edition of Sourcing from Cambodia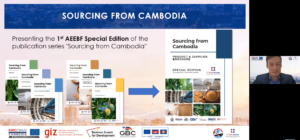 Photo: Release of the 1st AEEBF Special Edition of Sourcing from Cambodia
On November 15th 2021, the webinar "Discover Cambodia Business Trends and Opportunities" was held by EuroCham in partnership with the Ministry of Commerce Cambodia. It featured an extensive preparatory presentation on the 1st Asia-Europe Economic and Business Forum (1st AEEBF) prior to the event itself, which took place on November 24th, 2021. 
The webinar marked the official release date of the combined edition of the publication series Souring from Cambodia published earlier this year by GIZ and EuroCham Cambodia. "I am confident that this publication will make great contributions to further promote Cambodian products and help Cambodia to realize long-term visions in its trade endeavors. Therefore, I would like to express my gratitude to everyone involved in making this possible" stated H.E. PAN Sorasak, Minister of Commerce of Cambodia, in his foreword in which he graciously endorsed this extensive guide for European and international buyers. 
The 1st AEEBF, titled "Transitioning to a New Normal: Leveraging Global Value Chains, Multilateralism and the 4IR" was a major side event of the 13th Asia-Europe Meeting (ASEM13) which was held on 25-26 November 2021.
To access the 1st AEEBF Special Edition please click here.