Posted on: November 30, 2021
Cambodia concludes successful ASEM Summit in November with Angela Merkel participating in one of her last international meetings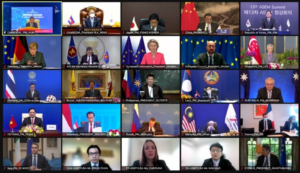 Photo: Cambodian Prime Minister Hun Sen presides over the virtual ASEM13 meeting from Phnom Penh
During the 13th Asia-Europe (ASEM) Summit on 25-26 November which took place in virtual format from Phnom Penh, Cambodia, leaders reaffirmed their shared partnership and engagement in the recovery from the COVID-19 pandemic.
Under the title 'Strengthening Multilateralism for Shared Growth', the Summit brought together Heads of State or Government of 30 European States and 20 Asian partners, the European Union and the Association of Southeast Asian Nations (ASEAN) Secretary-General. Leaders exchanged on global challenges and on a post-pandemic sustainable socio-economic recovery, to agree on ways to ensure a green recovery, and to reinforce cooperation on foreign and security policies.
For Germany's Angela Merkel, the Cambodia-hosted Summit was one of her last public appearances, only days before handing the chancellorship to her successor and current finance minister, Olaf Scholz. Mr. Scholz is expected to be confirmed as German chancellor on or after December 8th.
Established in 1996, ASEM is an informal platform for political dialogue and cooperation, which now brings together 53 partners, making it the biggest international leaders' gathering after United Nations General Assembly. It consists of 51 partner countries and 2 organisational partners (the EU and ASEAN). Of the 51 partner countries, 30 are in the 'European Group'- 27 EU Member States, Norway, Switzerland and the UK. The EEAS coordinates the European Group, together with the Council Presidency, which has an informal secretariat role.