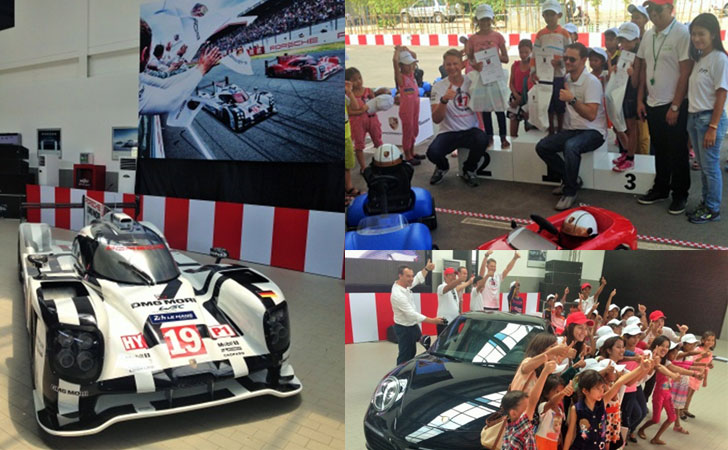 Precision Cars (Cambodia) Ltd. (PCCL), the official Porsche importer and distributor in Cambodia, marked its 1st anniversary celebration at the Porsche Centre in Phnom Penh. As part of the celebration, the brand's latest 911 model was presented, and the Porsche 919 Hybrid was flown into Cambodia – the winner of the 24hrs race of Le Mans.
PCCL also welcomed guests at the first Porsche Kids Driving School during the Porsche Family Day: 22 students from the Cambodian Children's Fund (CCF) aged 8 to 13 participated in the event that aimed to teach the children about road safety and traffic signs in the Kingdom. Michael Vetter, CEO of PCCL, said: "We are very happy to be able to provide joy to the children today. They get out to experience the world of modern traffic, and it is our aim to contribute to the development of Cambodia's growing, modern mobility society." Scott Neeson, founder and executive director of CCF, said: "Our students don't get many chances to get out of our training centre in Steung Meanchey. They study very hard to try and improve their lives, and we're grateful to Porsche and Precision Cars for allowing them to take part in an event focused on fun as well as learning. It was a terrific day for everyone."
Porsche´s 'Drive your Dream' program in Cambodia aims to support young Cambodians and to assist them in pursuing their dreams. Since the official opening in February 2015, the Porsche Centre Phnom Penh had offered three technicians trainded by PSE (Pour un Sourire d'Enfant) Cambodia to become an officially trained and certified Porsche Technician.