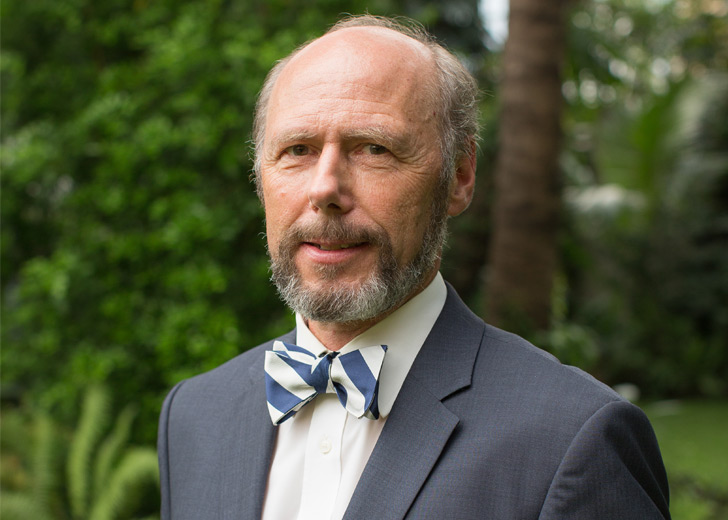 After three years in Phnom Penh, German Ambassador Joachim Freiherr von Marschall is leaving Cambodia in July. He offers a positive summary of his mandate as well as a review on his tenure in Cambodia. (Photo: Sam Jam)
Excellency, how do you estimate the economic situation and climate in Cambodia for German investors?
So far, Germany is not at the top of the list of foreign investors in Cambodia. German ventures have until now consisted mainly of capital investments. I know only one German company that has very concrete plans to engage in manufacturing. Other Western countries have invested more.
However, many large German brands are very present in the market and German products and services are available here. Most car brands are already in Cambodia, quite a few large technological leaders too. However, direct investment is still low compared to other Asean markets, where German companies are very present.
It is indeed interesting to see that EU countries are represented with a 25% share of foreign investment in the ASEAN region as a whole while, by contrast, investments of EU member states in Cambodia are in the lower one digit range.
Why do German companies hesitate to invest?
Clearly, the Cambodian market is not very big yet. That will change with growing opportunities coming from its participation in the Asian Economic Community (AEC).  At this time, however, there still are risks as well as investment barriers that discourage German, and other foreign investors.
However, I tell German business people coming to see me that there is an interesting potential in Cambodia. Nevertheless, it will take time and patience until the large investment barriers have disappeared or at least are diminished. I always recommend to watch Cambodia closely and to keep a foot in the door.
Which sectors of industry would you consider investing in Cambodia?
One should look at existing and working sectors such as agriculture, textiles, or tourism, and see whether one can diversify within these sectors, or develop specialty niches in areas where a high-quality and value added output can be achieved. In addition, automobile parts and the IT are sector are interesting, where investment has started fairly recently. I also see potential in areas such as pharmaceuticals or quality tools, and other products that are used on a day-to-day basis.
What do you consider as Cambodia´s "Unique Selling Point" – compared to other Southeast Asian states?
I see two key advantages: The geographical location of Cambodia in the midst between China in the north and Indonesia in the south and between Vietnam and Thailand –a whole region that is increasingly interesting for German business people. And the vast potential of younger people, who are the main asset of the country. On the long run they will be a key factor, provided that education will get evermore attention. The government has realised that more needs to be done in this area, and launched promising initiatives.
Low labour costs are also an argument but this will change, I guess. It will only remain an interesting factor if productivity increases at the same time. The relationship between labour cost and productivity already is not optimal in some sectors.
What were your aims when you came to Cambodia?
It is always hard to measure what kind of impact an Ambassador may have when working in his/her host country. Of course you hope that your leave a positive impression and that you help to deepen the relationship between your host country and the home country. I didn´t have a specific project, so it was my aim to develop the relationship between our countries smoothly, at the same time ensure that human rights are respected and our concerns are taken into consideration. I dealt a lot with development cooperation, which is an important symbol for our engagement in the country.
Other than that, one of my priorities was to reach out and connect with the young generation in presentations, in dialogues, in talks – that has given me the most satisfaction. I have given a number of presentations in universities and there is an organisation called "Politikoffee", where I met very impressive young people with open minds. It was interesting to hear their views and see how they react on mine. There is hardly any other country in the region with such a young population. I can see a change of generations to occur in the next 5 to 10 years in politics and within the economy. I think it´s important to prepare for that already now and to reach out, to connect and to get to know the leaders of tomorrow.
What will your future bring?
For the next three years I will hopefully be able to continue to do what I did here, i.e. to have a positive impact on the relationship between Germany and my future host country. My wife and I will move to South America and are very much looking forward to this experience, as it is the first time for us to live there. We have already started to learn Spanish. After that I will retire. My wife and I plan to move to the island of Rügen in Northern Germany where we have already bought a house. I am quite excited about changing my life and to work with my hands, and to dig in the ground.
Who will follow in your post as ambassador and what challenges will your successor have to face?
The German government has already chosen a successor but we are still in the process of preparing the application for the so-called agrément of the Cambodian government. Of course, he will have his own priorities. But he will – like each of his predecessors – accompany our development cooperation, which is one of the key elements of our engagement in Cambodia.
He will also continue the human rights dialogue with the government and other institutions and organisations, including the United Nations. He will also have the opportunity to witness something that I will be missing out on: the elections. When I arrived the last elections just had been held. There will be two elections during his time here, so he will have some interesting political reporting to do. And together with the other EU-colleagues he will follow closely on the preparation of the elections. It is of great importance that there is no doubt that the upcoming elections are well organized, fair and correct.
What was your personal highlight?
This was the time when I felt the tremendous dynamic after the elections in 2013, and especially after the constitutional problems had been overcome in 2014 – when a dialogue emerged between the governing party and the opposition party. There were very encouraging tendencies. Unfortunately this dialogue has come to a standstill but I hope it will be revived. At present the two main parties seem not in the mood to talk to each other in a way that would do justice to the culture of dialogue.
There is no dialogue going on as far as I can see. I hope that will change again as a constructive dialogue is very important in any democratic process.
As a kind of "lowlight" I would consider some of the many construction sites. I am happy that the city is growing but work often goes on 7 days a week, and often 24 hours a day. I hope that one day the government will find it important that people get enough peace and rest at night and on weekends.
What will you miss the most?
Cambodia has some hidden treasures besides the obvious ones such as Angkor Wat. My wife and I very much like the town of Kep, which reminds us of the Mediterranean. We almost have the feeling of being at home there. But hidden treasures also are the individuals, the Cambodian people with their smiles and openness who have really impressed us. Behind the smiles of older Cambodians often lies a history of pain for those lost during the terrible years of the Khmer Rouge period, and from the experiences made in that time.
We very much feel with these people and find it very rewarding when some of them open their hearts and speak to us. We very much wish that they can find inner peace – coming to terms with the painful experiences of the past is very important for a happy future and a strong society.
To me, my posting here has been a great learning experience, both from a professional, and from a personal viewpoint.