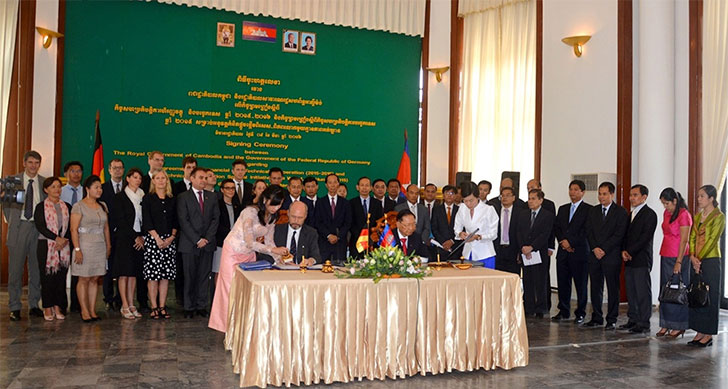 H.E. Joachim Baron von Marschall, Ambassador of the Federal Republic of Germany to the Kingdom of Cambodia, and H. E. Keat Chhon, Deputy Prime Minister and first Vice-Chairman of the CDC signed agreements on Technical and Financial Cooperation with a total value of €41.45 million (US$45.70 million). The signing ceremony was held on Wednesday, 9 March 2016 between the Federal Republic of Germany and the Council for the Development of Cambodia (CDC), Phnom Penh.
The commitment was signed between the German Federal Ministry for Economic Cooperation and Development (BMZ) during bilateral negotiations on development cooperation between the two governments in December 2015 in Berlin. The grants will be used for projects and programmes in the priority sectors Health/Social Protection and Rural Development, as well as in the cross cutting area of Good Governance.
"We trust that this assistance of the German government will successfully contribute to the continued development of Cambodia and the well-being of its citizens", Ambassador von Marschall said.
The Federal Republic of Germany is a major development partner in Cambodia. Since 1992 Germany has provided grants with a total volume of about €400 million (approximately US$550 million). Additionally, KfW Banking Group has provided private sector loans and contributions to a micro-financing fund in the range of more than €200 million. Beyond this direct support to Cambodia, the German government is the main contributor to the budget of the European Union for development cooperation (approximately 27%) and a major contributor to the budgets of international and multilateral organisations such as the United Nations agencies, the World Bank and the Asian Development Bank.
http://www.phnom-penh.diplo.de/Vertretung/phnompenh/en/07/Development_20Cooperation.html.
The summary records of the intergovernmental negotiations 2015 can be found on the webpage of the Council for the Development of Cambodia http://www.cdc-crdb.gov.kh/cdc/germany.htm