Posted on: January 20, 2023
Kärcher is in Cambodia to stay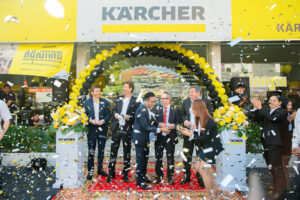 On January 18, 2023, German cleaning technology specialist and GBC member Kärcher opened its new Kärcher Center and HQ for Cambodia in Phnom Penh. The German family owned business started out in Cambodia in 2017 with just eight employees. Today, the new Kärcher Center represents the success the company has had in the country and shows its positive sales projections for the Cambodian market.
Kärcher Centers are flagship stores that have been opened all across Asia and the world. The new center in Phnom Penh offers an exhibition area with more than 200 square meters, as well as a Service Centre, offices and conference rooms.
Deputy Chief Executive Officer (CEO) Mr. Christian May, who arrived from Germany for the occasion, stressed that Kärcher is here to stay and has great interest in Cambodia with its young population and high economic growth. He also highlighted the company's ambitious Sustainability Goals 2025, including zero emissions and extensive plastic recycling.
During his opening speech, German Ambassador Stefan Messerer praised Kärcher for being a strong partner and highly respected representative of German industry in Cambodia.
Kärcher employs more than 14,400 people in 78 countries and has more than 150 subsidiaries. More than 50,000 service centres in all countries ensure a continuous supply to customers all over the world. In 2021, Kärcher reached the highest sales in its history, amounting to more than 3 billion euros.