Posted on: January 13, 2023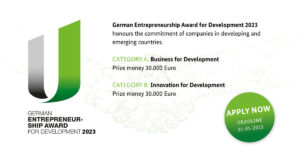 European companies from all sectors and business areas with activities in developing and emerging countries that demonstrate an engagement beyond commercial interests are eligible to apply for the German Entrepreneurship Award for Development 2023. Apply until January 31st, 2023!
The award honours the ongoing and future commitment of companies in said countries that goes beyond the corporate objective and benefits the local people. It is awarded in two separate categories: Category A "Business for Development" and Category B "Innovation for Development". The award ceremony in 2023 is expected to take place in April 2023 hosted by the Federal Minister for Economic Cooperation and Development, Svenja Schulze.
The Entrepreneurship Award comes with prize money of EUR 30,000 in each of the two categories. The money flows into the prize-winning projects and product ideas, providing additional impetus for the companies' international activities. The recipients commit to using the prize money for the dedicated purpose of continuing the company's engagement for the benefit of the local population.
In order to apply, companies are requested to provide information on their project idea that is to be implemented with the prize money and to provide background information on activities already carried out, as well as those planned for the near future. Furthermore, a short budget plan is to be provided as part of the application template.
All relevant information and application materials can be found here on the award's official website, apply now!
The German Entrepreneurship Award for Development is conferred every two years on the initiative of the Carl-Duisberg-Gesellschaft e.V. (CDG) on behalf of the Federal Ministry for Economic Cooperation and Development (BMZ) and is implemented by the Deutsche Gesellschaft für Internationale Zusammenarbeit (GIZ) GmbH.