Posted on: February 17, 2023
Briefing for the German Business Delegation by GBC and EuroCham members
President of Germany, Frank-Walter Steinmeier visited Cambodia February 13-15, marking the first time a German head of state has visited the Kingdom, almost exactly one year after the historic meeting between the foreign ministers of both countries in 2022. Mr. Steinmeier first traveled to Siem Reap, where he visited Angkor Wat and German-financed mine clearance activities, before traveling to Phnom Penh to partake in economic and diplomatic dialogues with Prime Minster Hun Sen and other politicians and government officials.
German Business Cambodia and EuroCham representatives held a 3 hour briefing for the visiting delegation of senior business leaders and German Parliamentary State Secretary Michael Kellner at Raffles Hotel Le Royal, during which both GBC and EuroCham experts presented a country overview and sectorial insights: EuroCham and GBC Chairman Tassilo Brinzer shared a broad overview of Cambodia's socio-economic development; Vice-Chairman Thomas Hundt on digitalization and telecommunication; DHL Country Manager Prayag Chitrakar on the logistics sector and e-commerce; EuroCham Green Biz Committee Chairman Dr. Sajith Edirisuriya on renewable energy and waste management; EuroCham Real Estate and Construction Committee Chairman Michel Cassagnes on the construction sector; and GIZ Business Scout Christoph Janensch on German business support programs such as export promotion, skill development and manifold possibilities for public private partnerships and investment co-financing.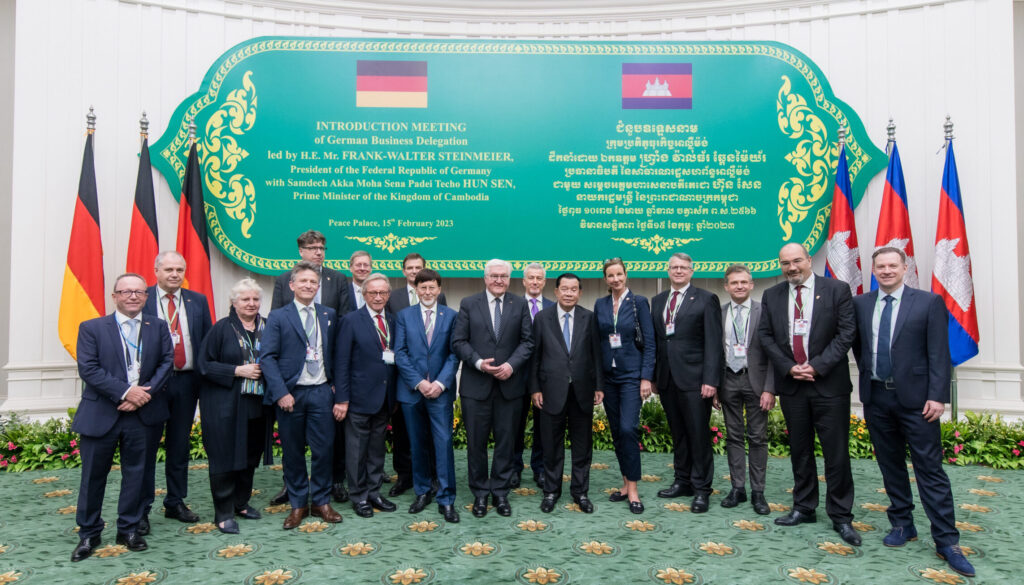 Following the briefing, the business delegation was accompanied by the GBC and EuroCham leadership to meet Prime Minister Hun Sen. The Prime Minister reinforced that Cambodia's economy is open for business as both a so-called "Plus 1" market and for genuine investment such as into the automotive sector, and underlined his vision for a greener economy with more recycling and an improved power grid capable of absorbing more renewable energy. The meeting was followed by a joint lunch at the Peace Palace attended by Mr. Steinmeier, Prime Minister Hun Sen and senior government representatives.
GBC President Mr. Brinzer said: "This first visit of a German head of state to Cambodia underlines the huge shift in German economic policy towards Southeast Asia. With Cambodia at the heart of an important subregion in ASEAN, strategically positioned in-between Vietnam, Laos and Thailand – we will see more and more interest from German and European companies in Cambodia as a so-called "Plus 1″ market, but also for genuine investments in the manufacturing sector here.
I am glad that EuroCham Cambodia and its German chapter, the GBC, could participate in some of these important meetings held this past Wednesday. Germany has been a long-standing development partner for the Kingdom, and the overall relations are excellent. In business, clearly much more can be done. What became clear in all our interactions – the availability of renewable energy as well as improved connectivity with neighboring markets will be key in attracting higher value, long-term European business to the Kingdom. It was great to hear during the meeting with Prime Minister Hun Sen and the Council for the Development of Cambodia's Secretary General and Minister attached to the Prime Minister, H.E. Sok Chenda Sophea, that renewable energy is very high on the agenda of the Royal Government."