Posted on: February 22, 2022
"Cambodia is well on its way to graduate from its least developed country status" 
German Development Cooperation in Cambodia – what are the current focus areas, what does the future hold in store, how is the private sector involved? GIZ Country Director Dr. Günter Riethmacher on the successful partnerships of GIZ in Cambodia. 
Since when is Deutsche Gesellschaft für Internationale Zusammenarbeit (GIZ) GmbH in Cambodia, and what was the main focus of the organization's work at the time?
GIZ has been working in Cambodia on behalf of the German Government, mainly commissioned by German Federal Ministry for Economic Cooperation and Development (BMZ), starting as early as 1994. At the time, Germany's reunification was a defining aspect of our international engagement in development cooperation. It mainly focussed on peace, reconciliation and reconstruction, while forging a strong relationship with the then recently established government of Cambodia. Since 2001 we have been maintaining a permanent office in the country. In fact, last year marked the 20-year anniversary of our permanent presence in Cambodia. Since then we have been supporting Cambodia in lowering its poverty rate – a joint effort that has seen large improvements in the past decades. German efforts have also made contributions to reducing infant mortality, empowering women, improving the security of land rights in rural communities and fostering gender-responsiveness in the judiciary. In the field of governance our advisors have helped to promote accountable, efficient, and transparent administrative systems in Cambodia. Of course, this is still an ongoing effort.
What are your main areas of cooperation at the moment?
With our staff of ca. 270 national employees and around 50 international colleagues in Cambodia we are currently implementing projects in 3 main areas, mainly on behalf of the BMZ. Modern rural development including aspects of climate change and value chains play a significant role, as well as health and social security. One project in that area which has received a particular amount of attention and was implemented nationwide is the Support to the Identification of Poor Households Programme, in short IDPoor. For an entire decade GIZ has hereby successfully supported the Cambodian Ministry of Planning in identifying poor and vulnerable households to allow them to access benefits such as social transfers, free medical treatment and other targeted services. This helps the Government in times of COVID-19 to reach the most vulnerable groups in a transparent and efficient way. Further areas include governance and strengthening civil services. We are proud to have a strong cooperation with other development partners like, the EU, SDC, USAID and others, who commission us with additional funds to scale up our efforts. I see this as the best proof that our approaches and competence is appreciated.
GIZ is increasingly engaging with the Cambodian private sector and seems to put a stronger emphasis on this cooperation than other development agencies from Europe. What is the underlying strategy?
Indeed, German development cooperation continuously strives to integrate private sector development into its work and to establish closer links. But acknowledging that the private sector generates jobs and income and fosters innovation is not limited to the German development approach. It is widely recognized that the private sector plays a key role in enabling the global community to achieve the Sustainable Development Goals (SDGs) set forth by the United Nations – it therefore needs to be integrated into any comprehensive and holistic development approach. Hence, GIZ's engagement in this regard is well aligned with international approaches, including those in Cambodia. Currently, we are implementing a growing number of projects focusing on economic development and employment creation, specially also for women. One of them is the new program Improved Competitiveness of National Enterprises (ICONE) which looks at issues related to productivity, efficiency and capacity for innovation of companies in three north-western provinces. Also, it will promote an in-country transfer of technology and digital solutions from Phnom Penh into the target provinces. Another example is the program Business Scouts for Development which promotes a wide range of support and financing opportunities to the private sector to facilitate business involvement in development cooperation. Since the end of last year, we are also supporting purchasing and producing companies from Cambodia to comply with their due diligence obligations with regards to international trade.
How do you see GIZ's work here evolve in the coming years?
Cambodia is well on its way to graduate from its least developed country (LDC) status – a change that could take effect as early as 2027. This positive development does by no means signify a gradual decline in German development cooperation in the country. Cambodia's rapid economic development may, however, bring new dynamics to the areas of engagement and topics the German Government and other commissioning parties will be addressing. Climate change adaptation and mitigation have seen a strong vitalization. To name a current example, GIZ has been strengthening the resilience of poor population groups to climate change since 2021. This is in line with the recent changes in the German federal government, which has placed a renewed emphasis on this important topic. By making the former German Minister for the Environment the new Minister for Economic Cooperation and Development, Germany has sent a strong signal that its international engagement will become even greener. It is therefore safe to say that we will see an increased engagement of German Development cooperation in this field here in Cambodia – with the active involvement of the private sector wherever possible. In addition, Germany's new Indo Pacific Guidelines put a new focus on this region and the ASEAN group as an important partner for European foreign politics. As an implementing organization of an EU member state, we are part of Team Europe. Therefore, I see GIZ contributing to Europe's joint efforts to achieve the greatest sustainable impact and transformational change.
Dr. Günter Riethmacher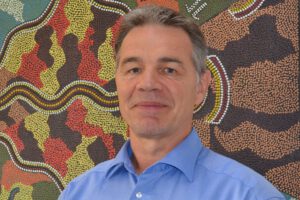 Dr. Günter Riethmacher, a trained biologist and economist, assumed the position of GIZ Country Director in Cambodia in 2018. He joined GIZ in 1988 as a research fellow in the Philippines and since then has changed between different positions within the organization abroad and in Germany. From 2005 to 2010 he was the GIZ Country Director in Vietnam, after being Regional Director for India, Indonesia, Malaysia and Timor-Leste in GIZ HQ. Before Cambodia he was department head of Global Financial Services in HQ Eschborn, Germany.