Posted on: February 28, 2022
Germany and Cambodia hold first bilateral meeting at foreign minister level since 1995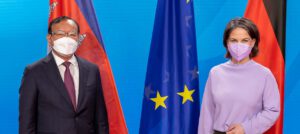 Photo: © Thomas Imo / photothek
On February 23rd 2022, German Foreign Minister Annalena Baerbock met Cambodian Foreign Minister and Deputy Prime Minister H.E. Prak Sokhonn during his visit to Germany as part of Germany's dialogue with ASEAN. 
With Cambodia holding the chairmanship of the regional organization, the country plays an important role for Germany's engagement in the Indo-Pacific and its ambitions for closer cooperation with ASEAN to strengthen the rules-based order, climate change mitigation and free trade. It also falls well into the framework of the Strategic Partnership between the EU and ASEAN which was launched last year.
Other topics on the agenda included bilateral cooperation between both countries, the situation of human rights and civil society in Cambodia, as well as the historic crisis in the Ukraine. With Foreign Minister H.E. Prak Sokhonn recently being appointed as the ASEAN Special Envoy for Myanmar, the ongoing political and humanitarian crisis in the country constituted another important point for discussion. 
His Excellency's visit to Germany marks an important event in German-Cambodian relations, with the last bilateral meeting at foreign minister level dating back over 25 years. With Germany's engagement in the region on the rise – as underlined in its policy guidelines on the Indo‑Pacific – the relations between both countries are expected to develop constructively, though some differences at the EU level remain.