Posted on: January 9, 2017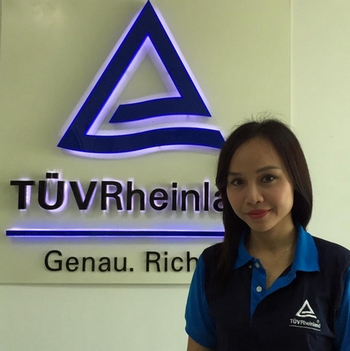 After many years in the Kingdom, Alexandra Herbel leaves Cambodia to become TÜV's General Manager for Singapore and Malaysia. With the beginning of 2017, she is succeeded by Ms. Mali Thanaporn Grimaud as GM of TÜV Rheinland Cambodia.
Living in Cambodia since 2004, Ms. Mali has accumulated a decade of experience in the TIC Industry (Testing, Inspection & Certification). She held the position of Operation Manager at a global Japanese Inspection company in Cambodia for six years prior joining TÜV Rheinland Cambodia in early 2014. Since then, with her comprehensive experience in import & export of commodities, Ms. Mali has developed the products inspection and quality control department at her current employer. With an expertise in the Southeast Asian rice sector in particular, she successfully managed and consulted several projects involving harmonization and standardizing of requirements in the Cambodian rice industry.
TÜV Rheinland's core areas in upcoming years are Agriculture, the Garment & Footwear Industry and the Construction sector. Since 2011, the company has been developing a wide range of services for the main pillars of the Cambodian industry. The team has made up of talented local and international personnel, inspects and conducts lab testing on products such as rice, pepper, shoes, and garments. The aim is to ensure local products' quality and specifications matching with those of buyers at export destinations worldwide. The team comprises internationally qualified auditors to support the industry in implementing and being audited according to quality management systems such as ISO 9001, environmental standards (ISO 14001), international food safety standards such as HACCP and ISO 22000 and a number of internationally recognized social standards such as SA8000 and BSCI.
Noteworthy to mention, TÜV Rheinland Cambodia is also an expert in Non-Destructive Testing (NDT) and pressure vessel inspections. Among other, the company conducts VT (visual testing), MT (magnetic particle testing), PT (penetrant testing), UT (ultrasonic testing) and PAUT (Advanced NDT: Phased Array Ultrasonic Testing) on constructions sites to ensure the welding are done according to international standards and match client specifications. By inspecting boilers, LPG tanks and other pressure vessels on a regular basis, TÜV Rheinland Cambodia' team ensures safety of users and the environment. This is mirrored by the Group's mission and guiding principle to achieve sustained development of safety and quality in order to meet the challenges arising from the interaction between man, technology and the environment.
Last but not least, the company offers a number of training ensuring the industry's and institutional stakeholders' familiarity and knowledge of international standards and implementation requirements.