Posted on: December 21, 2016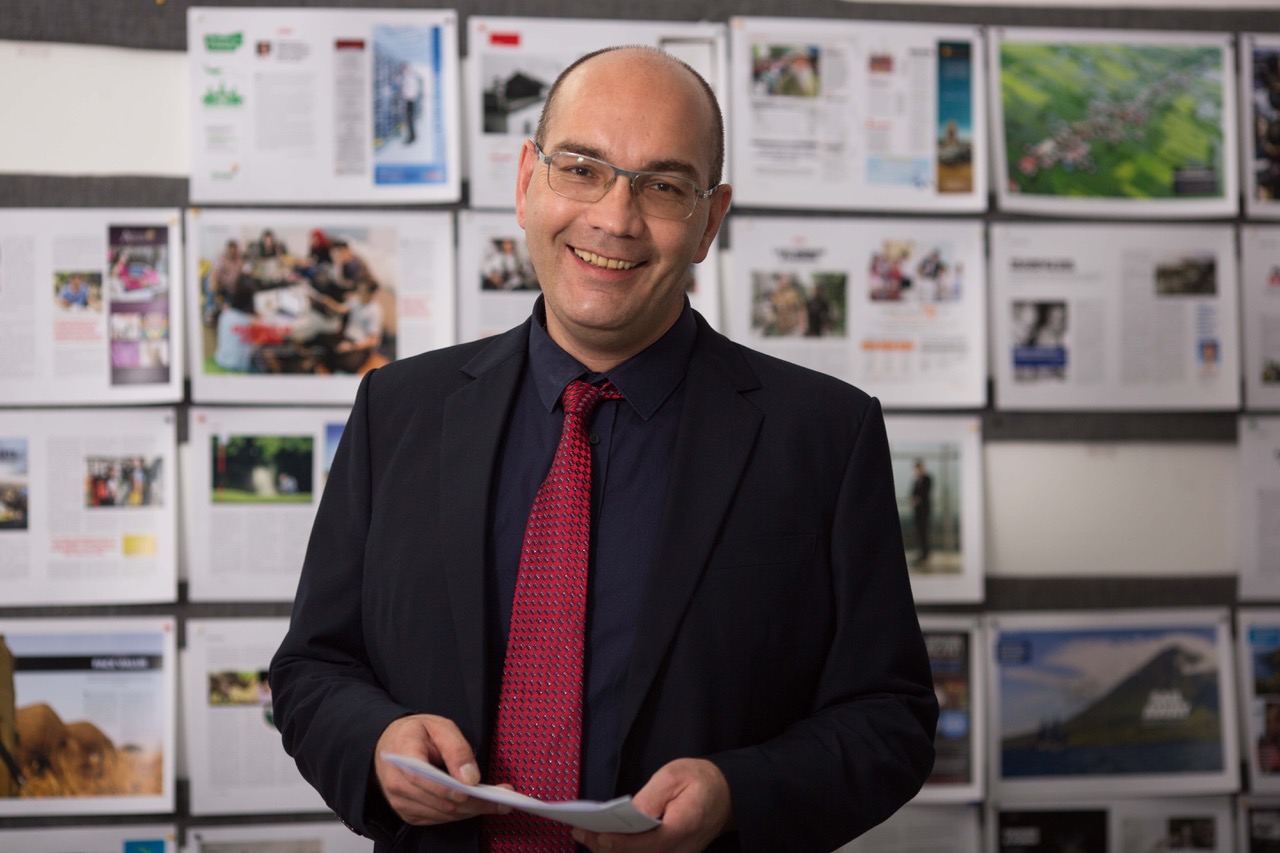 Tassilo Brinzer, one of Germany's leading entrepreneurs in Cambodia, has been serving as president of the German Business Group ADW since 2010. Together with his French and British counterparts, he co-founded EuroCham Cambodia, the local European Chamber of Commerce, in 2011 and became its Vice President until today. In this interview Mr. Brinzer recaps a successful year for ADW and its members, highlights business opportunities for international companies, and takes a chance on Cambodia's prospects in 2017.
Mr. Brinzer, how was the year for German enterprises in Cambodia? Can you tell us some success stories from both your members and the German Business Group ADW?
For the ADW it has been a great year, we have more members than ever before. ADW members are very engaged in EuroCham Cambodia via its executive committee and its board of directors, and two of our members head the automotive and the construction committees of EuroCham, representing these important industries vis-a-vis the Royal Government on behalf of the European business community. We don't have many members, but they are renowned brands or successful business leaders who are very engaged in the business community.
Clearly, Cambodia is on the map now in Germany as an extremely business friendly destination. We see more professionals from Germany coming to work here. German premium brands are increasingly available here, all top car brands but also lifestyle brands such as Hugo Boss, Puma, Nivea, Adidas or Montblanc are available in Cambodia. German products have an excellent reputation and with the market maturing fast, more business is done with the often higher-quality, longer-lasting but also more expensive German brands. As the market moves up, German products become more affordable, too.
What major economic trends do you expect for 2017?
It is difficult to foresee anything in a fast changing global and regional political and economic environment that will also influence Cambodia's economy. Certainly construction and real estate will continue to grow although prices might consolidate. Phnom Penh as the country's economic core will continue to expand. More business will come in as the country is in the international limelight with the World Economic Forum on ASEAN in May and the 2017 Cambodia International Business Summit earlier in February. Cambodia is on the map now as a destination not only to work, but also for a great lifestyle. A start-up scene is developing and the creative community is growing fast. Young Cambodians take their professional lives in their own hands and start businesses and other initiatives – these are exciting times for the country and I personally expect 2017 to provide solid continued growth.
While the German Business Group assembles the 'Who is Who' of some of the most famous brands worldwide among its members, Germany is also known for its innovative medium-sized companies called 'Mittelstand'. In which economic sectors do you perceive most potential for German companies?
Certainly in garment, tourism, in finance, in food processing, consumer goods, sustainable energy, construction, IT – pretty much all of these sectors will grow. For smaller or medium sized companies, there is room to move in but of course for these companies often based in the periphery of German cities, it might be more difficult to move abroad. The Cambodian business environment is very open and welcoming, but one needs to be prepared and informed when launching a business or operations here. Well positioned are those that have already business in Asia, in China or ASEAN countries as they might understand the local business mentality better, or faster. Cambodia's industrial base also needs to diversify more to attract more of these companies.
Whereas some German brands, in particular in the automobile industry, focus on selling their products in Cambodia, only very few local companies are part of their international supply chain. What are currently major hurdles for Cambodia becoming a relevant production site for German enterprises?
While manufacturing in Cambodia is highly attractive as products made here receive preferential market access in most of the world's large economies, high tech products are not yet made here – and these today form the core of German manufacturing. Certainly the lack of a technically trained modern work force, a weaker infrastructure and high energy prices are the main hurdles. Many large German groups already have manufacturing operations in Thailand and Vietnam and with ASEAN moving closer together there is not much pressure at the moment to produce in a country in between. But there has been constantly rising interest from German companies in Cambodia during the last year, and we expect this to continue.
Some of these companies will hopefully outsource parts of their production to Cambodia in future, in order to integrate them into their regional supply chain and to reduce dependencies. But it will take time. Today, there is only one German company that manufactures textile products in Cambodia for the automotive industry.
On the one hand, Cambodia needs major reforms to increase its competitiveness, but what, on the other hand, can Germany – both private enterprises and the public sector – do to expand economic relations?
Cambodia is already extremely open to investments, and the country offers outstanding incentives and attractive conditions to investors from any country. Although the manufacturing sector is probably not the right area at the moment for German companies: construction, energy, agriculture, tourism, the creative industry are sectors in which German companies could find opportunities, and access is not difficult. The growing middle class and the envisioned middle-income status by 2030 will in addition provide opportunities to German brands and companies. Regarding reforms – every country constantly needs those in order to stay competitive, this should be an ongoing process and Cambodia is implementing many reforms already.
What Cambodia needs most is better and broader education and urgently, a vocational training system to provide more and better trained workers to its economy, and to help create jobs to its young people. Many German companies would love to come here, but simply cannot find an adequate workforce yet. Germany certainly has good experience in the training sector, and German companies are already very active in this area in Vietnam and in Thailand. It would be great to see more support here from the German public sector as well.
Cambodia still struggles to overcome poverty with the support of bi- and multilateral development assistance. However, sometimes one can perceive asymmetric development with serious effects on the country's natural resources. What can (German) companies do beyond their contribution to employment and tax revenue for inclusive and sustainable development in Cambodia?
As there is not much German manufacturing here, the private sector might not engage much at this stage apart from leading by example in the areas German companies are active in today. Development assistance might be reduced gradually over the coming years, and the government would automatically have more responsibility to ensure more people have access to a more equal development. As a new generation starts to move into ministries and administration there will be more efficient procedures coming into place in the future and hopefully more people can access knowledge, training, good jobs and higher incomes. In Cambodia, German companies don't have a similar presence to Vietnam or Thailand, where they contribute a lot of jobs in many industries.
Significant investments heavily depend on political stability. With 2016's experience and two elections in the next twenty months, many observers believe Cambodia is entering a long period of political contestation. How do you asses the probability of a negative effect on the economy in general and what measures could keep it minimal?
Every year before and every year after an election investors are a bit more careful and take more of a wait-and-see approach. Ultimately, the smoother elections, the build-up towards them and the post-election period go, the least effect elections have on the economy. Cambodia has come a long way in the last decade and is a stable country today. In order to keep social and political stability and peace to an investor-friendly level, the economy needs to grow, jobs need to be created and incomes need to rise. In this context it is very important to spread the creation of more wealth to rural communities as well.