Posted on: January 10, 2022
Join our Trade Fair and Matchmaking Programme 2022-2023!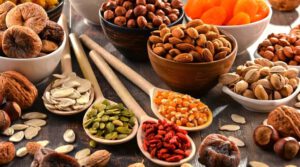 Supported by German Business Cambodia (GBC), the GIZ Business Scouts for Development Programme aims to promote agriculture exports from Cambodia to the European market and to establish first business contacts between you and European importers.
Together with our Germany-based partner sequa gGmbH, we are looking for Cambodian producers in the sectors of dried and other processed fruit, as well as ingredients for food and cosmetics, such as cashew, cereals, and essential oils etc. The companies in question should have experience with exports and should be looking for new buyers.
What we offer (free of charge):
Extensive training program to prepare for participating in a European trade fair
Shared IPD trade fair exhibition booth for you to display your product samples
Match-making with European buyers
Communication with trade fair organizers on your behalf
Coverage of your international travel costs (up to ca. 1100 USD)
After a selection process that includes a (virtual) company visit by one of sequa's trade experts, a training programme will be designed to your company's specific needs with the objective of participating in one of the leading international trade fairs in Europe. On behalf of GIZ, sequa will closely work together with its Import Promotion Desk (IPD) to organize matchmaking for you and potential new clients. Furthermore, sequa will accompany and guide you through the preparation, the follow-up phase, as well as the trade fair itself.
Timeline:
If you are interested in applying for this programme, please fill out the Company Profile linked below until January 31st, 2022 and send it back to the GIZ Business Scout Mr. Christoph Janensch at German Business Cambodia. After a pre-check sequa will then approach you in March 2022 for next steps of the selection process. After successful assessment by the sequa expert, it is envisaged to start swiftly with the training program, and to target a trade fair in the second half of 2022 or the beginning of 2023, e.g. SIAL 2022, Fruit Attraction 2022 or Biofach 2023.
Please note that this programme is designed for companies from a number of countries including Cambodia. Only a few companies per country can be admitted, with export readiness being the most important selection criterion. If you are among the finalists of our Virtual Trade Fair Pitch 2021, we kindly ask for your understanding that you are not part of our target group this time.
For more information on the project, please feel free to contact Mr. Christoph Janensch at German Business Cambodia.
To apply please fill out the Company Profile below:
If you have already filled it out a similar document for a previous activity with us, it is sufficient to send us an updated version of that document.