Posted on: January 3, 2020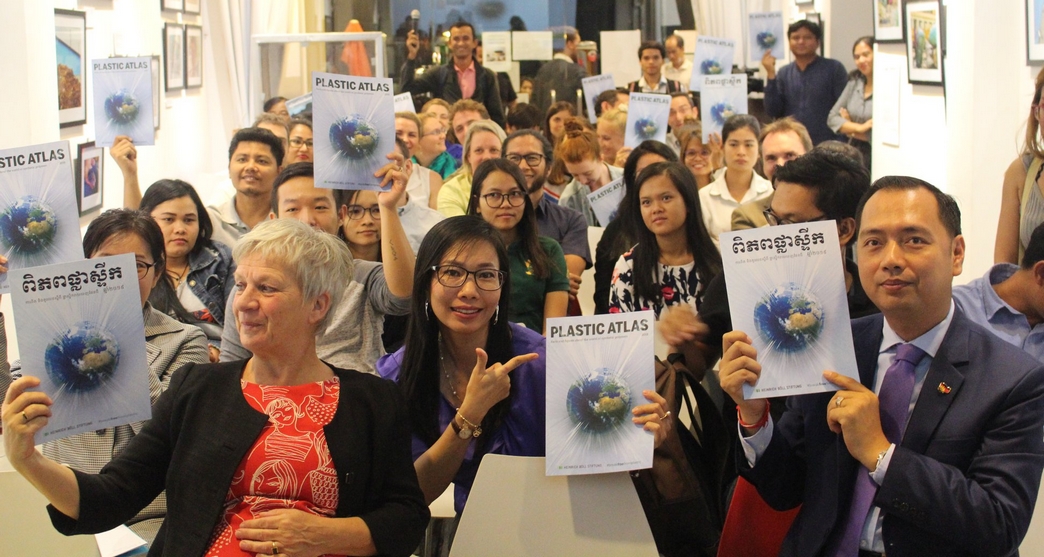 On the occasion of the visit of Heinrich Böll Foundation's President Ms. Barbara Unmüßig to Cambodia in December, the foundation launched the Plastic Atlas booklet in English and Khmer language at Meta House Phnom Penh. The Plastic Atlas contains more than 49 detailed infographics covering a broad range of topics regarding the plastic pollution crisis looking along the entire value chain of plastic. The event was also attended by H.E. Neth Pheaktra, Secretary of State and Spokesperson of the Ministry of Environment, who delivered a speech on plastic pollution in Cambodia.
The Plastic Atlas highlights the scale of the crisis, and the global impacts of plastic production, consumption and disposal on other key global challenges such as human health and climate change. Ms. Unmüßig called for global action to address the crisis at source: "A ban on single-use plastics makes sense but will not be sufficient to end one of the biggest environmental crises of the planet. Plastics began as a waste product of the petrochemical industry. Today, ExxonMobil, BASF, Eni, INEOS, and Dow are the biggest plastic producers worldwide with sales totaling € 420 billion per year," Unmüßig said.
"Instead of cutting down on this part of the business they have clear targets to increase plastic production over the coming years. The unlimited availability of cheap oil and gas as raw materials for plastic production prevents effective recycling strategies and blocks a real circular economy. Regional and global politics must hold the plastic industry accountable and define a clear and strict framework for the reduction of overall plastic production and consumption. However, circular-economy strategies are needed to make a lasting impact", Unmüßig emphasized.
Only nine percent of all plastic thrown away since 1950 has been recycled; instead, huge amounts of Western plastic waste end up in dumps in Asian countries every day. This also affects personal health – according to study launched in 2019, everybody ingests an average of five grams of micro plastic every week, the equivalent of a credit card.
To download the Plastic Atlas, please click here.