Posted on: October 22, 2018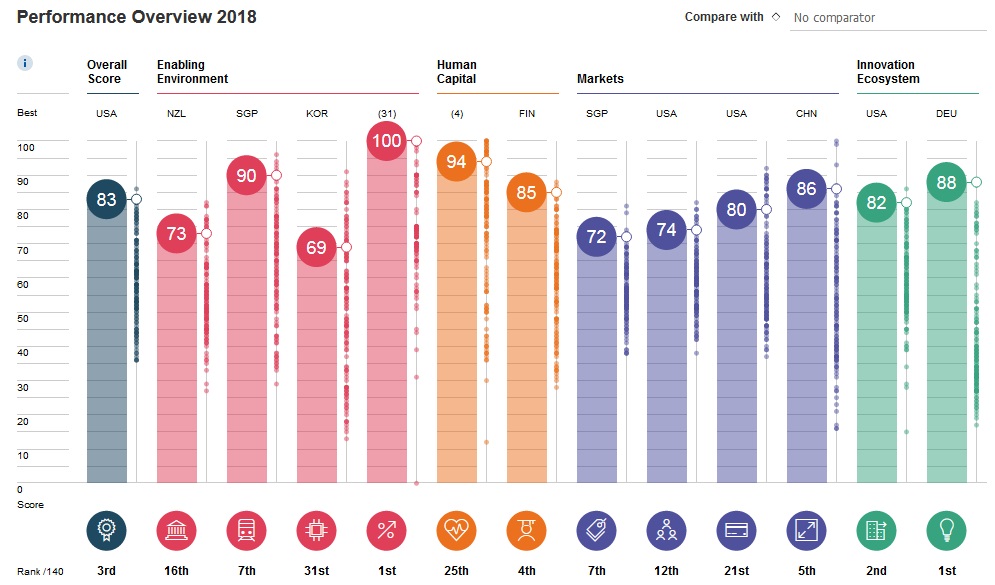 According to the latest Global Competitiveness Index published by the World Economic Forum (WEF), Germany is the most competitive country in Europe and number three in the world. Climbing two positions compared to the previous report, only the United States and Singapore perform better while Switzerland ranks fourth and Japan fifth.
The report further states that Germany is the top country regarding innovation capability and among 31 states with the highest macroeconomic stability. With an overall score of 82.8, the country's innovation capability is driven by a strong performance on patents (5th) and research publications (3rd), by top-ranked research institutions (4th), and by a very high degree of buyer sophistication (5th), leading to firms constantly being challenged by their customers to innovate. Innovators benefit from a vibrant business sector to bring innovations to market (2nd). Germany's strong overall competitiveness performance is further explained by very solid fundamentals, such as a stable macroeconomic environment and a healthy, well-educated and highly-skilled population.
Featuring the new Global Competitiveness Index 4.0, the report assesses the competitiveness landscape of 140 economies, providing unique insight into the drivers of economic growth in the era of the Fourth Industrial Revolution. Cambodia is ranked on position 110 while it was on position 94 one year ago. A bit surprisingly, there are only four 'super innovators': Germany, the United States, Switzerland and Taiwan.
The rankings, the report, the data are all on http://reports.weforum.org/global-competitiveness-report-2018/