Posted on: March 24, 2018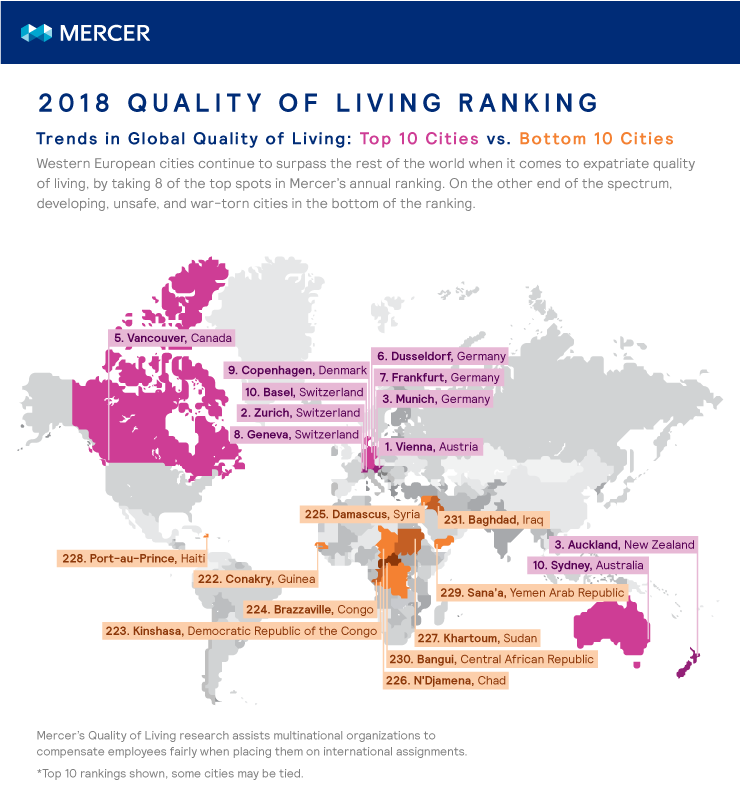 In a comparative study that measures the best quality of life in the world, Germany is the only country with seven cities in the thirty best rated locations with Munich (3rd), Düsseldorf (6th), and Frankfurt (7th) in the top ten. With top-city Vienna (Austria) and runner-up Zurich (Switzerland), two more German-speaking cities offer the world's highest quality of living and continue to remain attractive destinations for expatriates on assignment.
The annual survey from consulting firm Mercer helps companies and organizations determine compensation and hardship allowances for international staff. Its criteria include political stability, health care, education, crime, recreation and transport. The study encompasses 231 cities world-wide.
According to a press statement, Munich jumped to 3rd position as over time the city has made a concerted effort to attract talent and businesses by continuously investing in high-tech infrastructure and promoting its cultural facilities. The survey ranks Berlin on 13th, Hamburg on 19th, Nuremberg on 23rd, Stuttgart on 28th, and Leipzig on 60th position.
In Southeast Asia, Singapore performed best on position 25 followed by Manila (137), Jakarta (142), Ho Chi Minh City (152), Hanoi (155), Vientiane (170), Phnom Penh (197), and Yangon (203). At the bottom of the index are Sanaa, Damascus, and Baghdad at the very end.