Posted on: November 4, 2019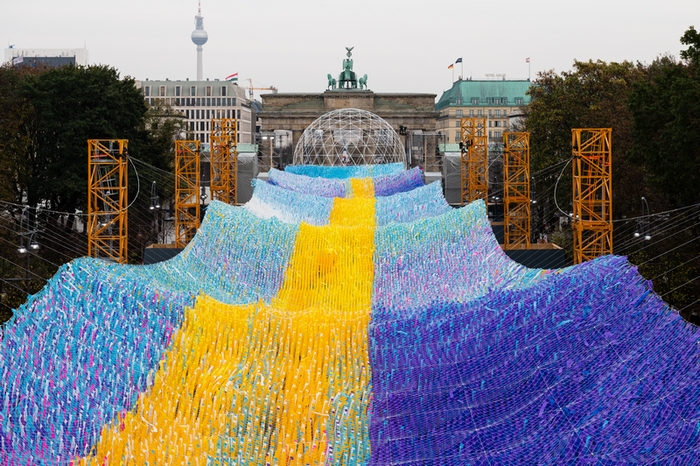 In Berlin, official celebrations of the fall of the Berlin Wall started on Monday. On 9 November 1989, after several weeks of civil unrest, the East German government announced that all citizens of Eastern German Democratic Republic (GDR) could visit West Germany and West Berlin. Crowds of East Germans crossed and climbed onto the Wall, joined by West Germans on the other side in a celebratory atmosphere. Following the fall of the Berlin Wall, Germany unified within one year while it also symbolizes the end of the Cold War.
The main attraction is the art installation «Visions in motion» started on 4 November. Under the motto "Your vision in heaven over Berlin", all Berliners and friends of the city are currently invited to communicate their messages, wishes and hopes in 140 characters. These messages will then fly like a huge flag across avenue "Straße des 17. Juni" near Brandenburg Gate to 10 November.
Altogether there are more than 200 free concerts, readings, theatre and film performances as well as roundtable discussion which critically deal with the consequences of reunification, especially in the Eastern federal states. The focus is on the locations in Berlin where the peaceful revolution – that led to the fall of the Berlin Wall – took place. In there, the historical events are taken up in open-air exhibitions. At six locations, large-format light installations will also be projected onto facades after dusk.
Construction of the Wall was commenced by the GDR on 13 August 1961. The Wall cut off West Berlin from surrounding Eastern Germany, including East Berlin. It was supposed to prevent citizens of the GDR emigrating to Western Germany. While over 100,000 people attempted to escape and over 5,000 people succeeded in escaping over the Wall, at least 136 people died, mainly by the use of force executed by Eastern border guards.