Posted on: October 2, 2023
Fostering closer cooperation for German companies in the region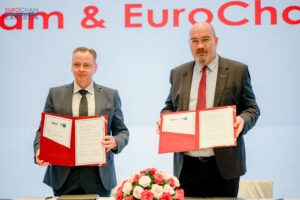 On September 29, 2023, EuroCham Cambodia and German Industry and Commerce in Vietnam (AHK Vietnam) signed a Memorandum of Understanding (MOU) during the ASEAN-Cambodia Business Summit in Phnom Penh. Through close cooperation, technical assistance, mutual sharing of experiences, as well as promoting joint interests, both parties aim to further attract trade and investment between Germany and Cambodia across all sectors.
Areas of cooperation include:
Facilitating and increasing bilateral investment, business and trade flow between Cambodia and Germany and support investment in Cambodia from German companies in Vietnam/Laos/Myanmar
Assisting the sustainable development of the Cambodian economy
Exchanging information about the Cambodian market
Assisting the upskilling of Cambodian workforce
Providing business development services to companies
As a next step, a Working Group between both signees will be stablished to work on achieving the objectives of the MOU.
The MOU follows a change of responsibilities for activities carried out by the German AHK network in Cambodia, Myanmar, and Laos: Since May 2023, AHK Vietnam has taken over this responsibility, a function previously held by AHK Myanmar.