Posted on: September 27, 2023
Webinar Invitation:
Cambodia's Emerging Manufacturing and Opportunities in Special Economic Zones
Join us on October 4th, 2023, 3 pm – 4 pm ICT / 10 am – 11 am CET , online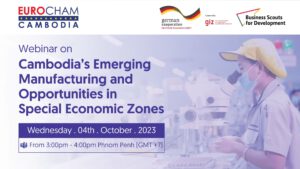 Please click here to register!
Are you interested in Cambodia's emerging manufacturing sector beyond the textile industry, encompassing electrical equipment and electronics, consumer goods, and more? Do you want to explore the potential opportunities in Special Economic Zones (SEZs) and understand how they can benefit your business? Then don't miss out on this opportunity to gain valuable insights into Cambodia's emerging manufacturing sector and the potential benefits of operating in SEZs.
Agenda:
3 pm​ ICT
10 am CET
Cambodia's Emerging Manufacturing and Investment Opportunities
Mr. Matthew Pocock, Trade and Advocacy Expert, EuroCham
3:10 pm​ ICT
10:10 am CET​
Exploring Cambodia's ​Special Economic Zones
Ms. Elise Ekström, Trade Analyst, EuroCham​
3:20 pm ICT
10:20 am CET​
Fostering Investment through Effective Management: The Case of the Phnom Penh Special Economic Zone
Mr. Panha DY, Customer Service Manager, Royal Group PP SEZ
3:30 pm ICT
10:30 am CET
Benefits of SEZs from a Private Sector Perspective
Mr. Khun Pengly, Country Supply Chain Director, Cambodia Beverage Company
3:40 pm ICT
10:40 am CET​
Offering the Right Service Support Package to Investors​
Mr. Ross Wheble, Country Head, Knight Frank Cambodia
3:50 pm ICT
10:50 am CET
Wrap up and Q&A​
Mr. Matthew Pocock, Trade and Advocacy Expert, EuroCham
Moderator: Christoph Janensch, GIZ Cambodia
During this webinar, we will discuss the various advantages and incentives offered by SEZs in Cambodia, as well as learn first-hand what it's like to invest and work in a Cambodian SEZ. Learn from SEZ management, EuroCham research staff, and the private sector, as they share findings and success stories from our upcoming guide on Cambodian SEZs.
This webinar is organised by EuroCham Cambodia and supported by the Business Scouts for Development Programme, implemented by GIZ as part of German development cooperation.