Posted on: November 30, 2019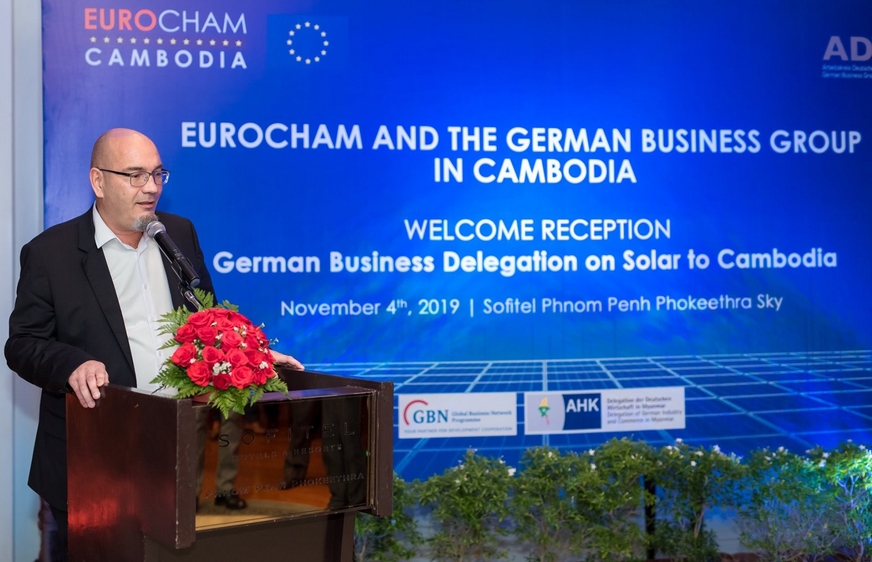 In line with Cambodia's national long-term economic and energy ambitions and during the Clean Energy Week Cambodia, the German Business Group Cambodia (ADW) and EuroCham welcomed a delegation of German businesses involved in industrial and commercial solar who was visiting Cambodia in order to explore business opportunities on 4 November 2019.
ADW President Tassilo Brinzer and H.E. Victor Jona, General Director at the Ministry of Mines and Energy, welcomed the delegation during a reception at the Hotel Sofitel Phokeethra Sky and highlighted the progress the Kingdom has made during the last years in renewable energies. Later the evening, participants of the delegation, energy companies, factories and industry representatives from Cambodia and Germany, as well as governmental and non-governmental organisations exchanged their views and experience.
The conference was opened by German Ambassador to Cambodia, Mr. Christian Berger and included several presentations from academia, public administration and development agencies. The speakers emphasized the role of renewable energies in general as well as solar power for the development of the Cambodian energy market in terms of cost efficiency, energy security and ecological sustainability. Opportunities and challenges for solar energy in Cambodia were also discussed during a panel discussion with participants from the private sector and business associations. Four German companies' representatives showcased their products and services including Arne Olszok from Enerbar, Benedikt Böhm from Dhybrid Power Systems, Matthias Altieri from 4i-Capital and Bernd Malorny from 21st Century Clean Energy.
The GIZ Project Development (PDP) and the Global Business Network (GBN) programmes presented technical and financial support services that are designed for the private sector in order to facilitate the market entry to Cambodia and other developing countries.