Posted on: August 28, 2017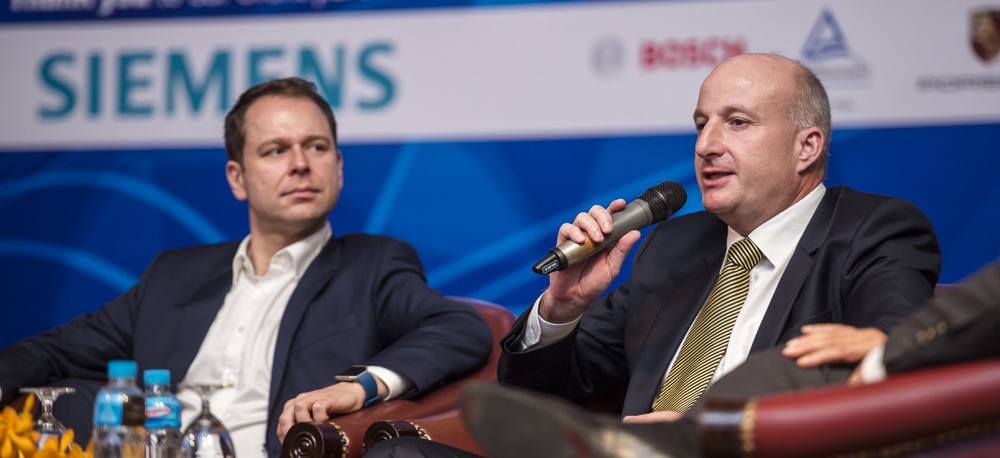 The next industrial revolution will introduce "smart factories" in which computers and robotics communicating wirelessly will handle physical processes with very little input from human operators, leaving few job opportunities for unskilled workers, executives of German industrial giants said during a briefing in Phnom Penh on August 25th organized by the German Business Group Cambodia (ADW). The event, titled "Industry 4.0, the Next Level of Manufacturing", focused on the future of the internet and advanced technologies in the manufacturing sector, including its impact on human labour.
Markus Lorenzini (photo right), president and CEO of Siemens Thailand, said the "Fourth Industrial Revolution" was already in progress and would bring increased flexibility and efficiency to industry while increasing the demand for skilled labour. "The digital transformation of industry is not an option. It's already happening," he asserted as videos of unmanned machines operating autonomously on a factory floor in present-day Germany played on a screen behind him. He said while past industrial revolutions were built on cheap labour, a tendency that saw huge investments by developed economies into low-income countries such as Cambodia, with the advent of Industry 4.0 and an internet-enabled robotic workforce "cheap labour . . . should become obsolete".
Nikolay Kurnosov (photo left), general manager of Bosch Rexroth Vietnam, stressed that human labour would still be necessary even as factories shift to remotely operated robotics, but there would be no demand for an unskilled workforce. "People are key players in the new industrial revolution," he said. "We don't need simple jobs anymore. We need skilled workers." He said Bosch expects there will be more manufacturing jobs in the future than there are today, but the positions will require technical skills rather than nimble hands.
Tassilo Brinzer, president of ADW and vice-president of EuroCham, appreciated the contributions of Siemens' and Rexroth-Bosch's Industry 4.0 experts. "I think the presentations were a real eye-opener for many who are imagining the impact of this concept on Cambodia's manufacturing sector. For the German Business Group, this was a great opportunity to present some important insights to the audience", he concluded. However, even global players depend on a sufficient general set-up provided by the Royal Government of Cambodia. According to Mr. Brinzer, "policy adjustments seem to be key to developing such a high-tech sector in the Kingdom."
The article is based on a story written by Robin Spiess for the Phnom Penh Post.