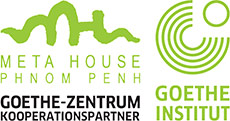 ---
Meta House, German Cultural Center
(Goethe Institute)
Mr. Nico Mesterharm
Director
No. 6, Street 264
Phnom Penh , Cambodia
Mobile: +855 (0)10 312 333
http://www.meta-house.com
The CAMBODIAN-GERMAN CULTURAL CENTER "META HOUSE" actively supports Cambodian artists and promotes the development of contemporary art in Cambodia through local and international exhibitions, workshops, community-based projects and artist exchange programs with German and European counterparts.
Set on more than 500 square meters in the city centre, META HOUSE accomodates a large gallery/multi-function room, a German language school, the M.E.T.A film school, the TURNING TABLES DJ workshop, a rooftop cinema and the restaurant/bar/club "Art Café". META HOUSE also hosts dance, theatre and music events, and provides space for meaningful public events in cooperation with other NGOs and social businesses.
META HOUSE is a project of the CAMBODIAN-GERMAN CULTURAL ASSOCIATION, supported by the Embassy of the Federal Republic of Germany. Partners are the German Goethe-Institute and the "Art Plus Foundation".