Posted on: November 17, 2021
MOC Cambodia receives additional export-promotion materials for ongoing Dubai Expo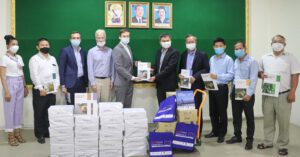 Handover ceremony at the Ministry of Commerce                                                                 Photo: EuroCham
Due to ongoing high demand at the Dubai Expo for the Product & Supplier Brochures published by GIZ and EuroCham, an additional batch of 1200 copies were handed over to the Cambodian Ministry of Commerce (MOC) on November 12th, 2021.
"It is my pleasure to receive these Product & Supplier Brochures which are truly valuable to our work of promoting Cambodia on the international stage at the Dubai Expo", said H.E. Kosal KAO, Director General of the General Directorate of Trade Promotion at the MOC. "We will circulate them in particular during the Cambodia National Day at the Expo, which is scheduled to be attended by H.E. our Prime Minister Samdech Techo Hun Sen himself on January 24th, 2022", KAO added. He stressed that the MOC, GIZ and EuroCham share the same goals in fostering the private sector in Cambodia and the country's ambitions in international trade.
The additional copies will be shipped to Dubai within the next few days to be displayed at the Cambodian pavilion to promote local Cambodian suppliers and their products. The shipment adds on to 600 copies already shipped to the World Expo earlier this year.
During the handover ceremony, both Mr. Denis Sainte-Marie, Executive Director of EuroCham and Mr. Christoph Janensch, GIZ Business Scout at EuroCham's German Chapter GBC, expressed their anticipation that the materials will make a significant contribution to strengthening the international networks of Cambodian producers and ultimately help boost their exports.
In addition to the Product & Supplier Brochures, EuroCham Cambodia also contributed 200 hard copies of its second edition on Business Opportunities in Cambodia to the Dubai shipment.