Posted on: October 31, 2022
Publication showcases business opportunities for European investors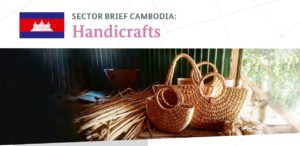 We are pleased to announce the publication of GIZ's Sector Brief on Handicrafts in Cambodia! The Brief is part of a series of 9 publications so far, each analysing a key economic sector in Cambodia and showcasing related potential business opportunities for European investors, entrepreneurs and partners.
In contrast to the high-volume factory handicraft production seen in countries like China and India, the handicrafts sector in Cambodia is mainly dominated by small, NGO-driven social enterprises. A general competitive advantage of the industry is its fair trade, social and environmental orientation: Cambodian artisans use locally sourced natural products, have a high social impact offering jobs inside their communities, and focus on quality as well as environmental impact.
The sector provides employment to about 20,000 professional artisans, including suppliers, end producers and traders. Silk weaving, as well as rattan and sedge weaving provide the most employment, with about 5,000 active weavers in each product group. About 3,000 people are employed at the production level by general handicraft SMEs. Contemporary and traditional Cambodian handicraft produced today includes home decoration, ceramics, vegetal lacquer, textiles, fashion apparel, and jewellery.
Most business opportunities for European and German companies lie in both the export of machinery, yarns, chemicals and equipment, as well as the import of Cambodian handicrafts. The demand for sustainable quality cotton yarns, manufacturing machinery and equipment in Cambodia is increasing every year. Furthermore, the provision of equipment and support services for digitalisation, auditing and certification may also hold potential.
European retailers are faced with rising demand for handcrafted goods and their success depends on product diversity – even mass merchandisers such as US-based Target have begun to feature multiple countries and cultures in their product development. This bears potential for European businesses to collaborate with Cambodian companies to create up-to-date collections of handcrafted items which accurately fit with the actual market.
Full Sector Brief available here on our Market Information page