Posted on: October 25, 2021
Cambodian participation to Expo 2020 Dubai is a success!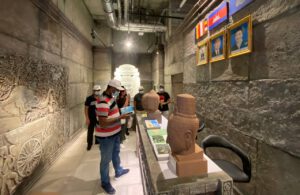 Cambodian participation in the trade fair Expo 2020 in Dubai is a success, according to an official from the Cambodian Ministry of Commerce. Postponed due to the COVID pandemic, the trade fair opened its doors earlier this month and will continue until the end of March 2022.
Cambodia's pavilion saw a total of 13,070 international visitors in just two weeks following its opening. The guests were provided with detailed information on Cambodian premium products and their local producers, as 600 Product & Supplier Brochures published by GIZ and EuroCham were readily on display. They showcase a range of local products, selected for their sustainability and quality and were out of stock in short order. This prompted Cambodian officials to arrange for a new batch of brochures to be dispatched to Dubai and maintain visitors' interest in Cambodia's heritage.
The brochures were designed and published as part of the GIZ Business Scouts for Development Programme, which aims to create new opportunities for trade but also to improve prospects for local job creation. In partnership with German development agency GIZ, an Export Support & Sustainable Sourcing Desk+ is being set up by EuroCham Cambodia. Among other activities and events, the project so far resulted in around 30 local companies being trained in export promotion, communications and digital marketing. 16 of them were selected as finalists for a virtual trade fair in Germany.
In addition to the Product & Supplier Brochures, EuroCham Cambodia is contributing several hundred hard copies of its second edition on Business Opportunities in Cambodia to the Dubai shipment.