Posted on: August 3, 2023
Webinar Invitation
Business Opportunities in Cambodia: Electrical and Electronic Equipment Industry
Join us on August 30th, 2023, 9 am – 10.30 am CET / 2 pm – 3.30 pm ICT, online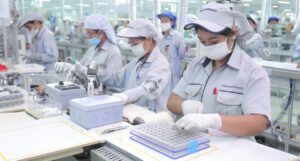 Join us on August 30th by registering here!
Cambodia is one of the most accessible frontier markets to foreign investors and offers an excellent business environment. Unbeknownst to many western commentators, the country's Electrical and Electronic Equipment (EEE) Industry has seen a rapid development in the past decade, with related exports growing from practically zero in 2012 to ca. 2 billion USD in 2022. While the USA have recently advanced to most important EEE export market for Cambodia, the main players in the local EEE manufacturing sector are large foreign multinational companies of mostly Asian origin. They invest in assembly plants in industry sub-sectors such as electronic components and equipment, optic fibre connection assembly, as well as industrial electronics and micro-electronics. Very few of these companies source material inputs from domestic suppliers, the majority obtaining inputs – i.e. wires, cables, diodes, transistors and electrical transformers – abroad, mostly from China, Japan, and Thailand. So far, European brand presence is maintained mostly through sales offices in the capital Phnom Penh, relying on a network of local partners who distribute their imported products. Opportunities in the Cambodian Electrical and Electronic Equipment Industry will be highlighted and elaborated during the webinar.
The webinar is taking place on the occasion of the publication of our Sector Brief on the Electrical & Electronic Equipment Industry.
Agenda
9 am CET
2 pm ICT
Welcome remarks
Mr. Soeren Konaretzki, Regional Manager ASEAN,
German Asia-Pacific Business Association (OAV)
09:05 am CET
2.05 pm ICT
Business Opportunities in Cambodia
Mr. Matthew Pocock, Trade and Advocacy Expert,
European Chamber of Commerce (EuroCham) Cambodia
09:25 am CET
2.25 pm ICT
The Electrical and Electronic Equipment Industry in Cambodia
Mr. Christoph Janensch, Business Scout Cambodia, GIZ
09:45 am CET
2.45 pm ICT
Improving Cambodia's Electrical Industry
Mrs. Eaindray Oo, Business Development & Marketing Manager,
PESTECH (Cambodia) PCL.
09:55 am CET
2.55 pm ICT
Electrical Solutions made in Cambodia
Mr. Lucas Ferrand, Director Projects & Business Unit, ATS Cambodia
10:05 am CET
3.05 pm ICT
Your Investment Destination: Cambodian Special Economic Zones
Ms. Elise Paulina Ekström, Trade & Investment Analyst, EuroCham Cambodia
10:15 am CET
3.15 pm ICT
Q & A Session
with all speakers
10:25 am CET
3.25 pm ICT
Closing Remarks
Mr. Soeren Konaretzki, Regional Manager ASEAN, OAV
The webinar is organized by Deutsche Gesellschaft für Internationale Zusammenarbeit (GIZ) GmbH on behalf of the German Federal Ministry for Economic Cooperation and Development (BMZ) in cooperation with the OAV – German Asia-Pacific Business Association, and the European Chamber of Commerce Cambodia and German Business Cambodia (GBC).