Posted on: September 15, 2023
Webinar Invitation
Unlocking Cambodia's Ecotourism Potential Through Digital Tools
Join us on September 21st, 2023, 3 pm – 4 pm ICT / 10 am – 11 am CET , online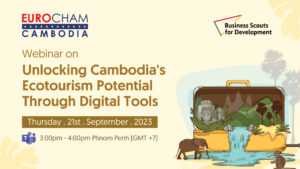 Join us on September 21st by registering here!
Are you a Cambodian tourism or hospitality operator? Are you wondering how to enhance the Kingdom of Wonder's attractiveness as a tourist destination? Is the skills gap a challenge for your business?
Discover the untapped ecotourism opportunities in Cambodia and learn how digital tools can enhance sustainable tourism practices, through contributions from EuroCham, GIZ, and the private sector. During the webinar, the free online learning platform ATINGI will be introduced, offering a range of courses specifically designed to upskill the tourism and hospitality industry.
Agenda
3 pm​ ICT
10 am CET
Setting the Scene: Cambodia's Need to Diversify its Tourism Offer​
Mr. Matthew Pocock, Trade and Advocacy Expert, EuroCham
3:10 pm​ ICT
10:10 am CET​
Discovering Cambodia's Ecotourism Potential​
Mr. Visal Chourn, Trade Analyst, EuroCham​
3:20 pm ICT
10:20 am CET​
The Skills Gap Challenge in the Tourism Sector: Private Sector Perspective
Mr. Boret REAM, Founder & Director, JOURNEY CAMBODIA
3:30 pm ICT
10:30 am CET
Reigniting Tourism through Product Innovation and Resource Efficiency
Ms. Marie Hoffmann, Senior Technical Advisor, GIZ ICONE
3:40 pm ICT
10:40 am CET​
Using ATINGI for Upskilling in the Tourism Sector
Mr. Andreas Hofmann, Tourism for Sustainable Development Project Manager, GIZ
3:50 pm ICT
10:50 am CET
Wrap up and Q/A​
Mr. Matthew Pocock, Trade and Advocacy Expert, EuroCham
Moderator: Christoph Janensch
Don't miss out on this opportunity to explore Cambodia's ecotourism potential and gain access to free online courses!
The webinar is organized by EuroCham Cambodia on behalf of the GIZ Business Scouts for Development Programme in collaboration with German Business Cambodia (GBC).