Posted on: October 28, 2022
Cambodia, Germany hold talks on bilateral development cooperation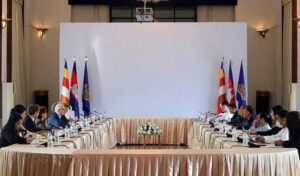 ©AKP
German and Cambodian government representatives met from October 19-20 to discuss the progress of current bilateral development projects and analyse proposals for future projects between the two nations.
The biennial Consultation on Development Cooperation between the governments of the Kingdom of Cambodia and the Federal Republic of Germany was chaired by H.E. Chhieng Yanara, Minister Attached to the Prime Minister and Secretary General of the Council for the Development of Cambodia's Cambodian Rehabilitation and Development Board and H.E. Mr. Udo Weber, Senior Policy Advisor, Southeast Asia Division Federal Ministry of Economic Cooperation and Development (BMZ). Further participants from the German side included representatives from the German Embassy, from GIZ as well as from German development bank KfW.
Core areas discussed during the meetings included health and social protection, transformation of agri-food systems, sustainable economic development, training and occupation, peace and inclusive societies, as well as climate and energy / just transition.
Prior to the consultations, a Sectoral Dialogue took place starting from October 17 between the aforementioned German participants and several Cambodian ministries. One of its highlights was the signing of a Financing Agreement for the Cambodia Health Equity and Quality Improvement Programme (H-EQIP) amounting to 16 million Euros provided by the German Federal Government.
During various discussions, the important role of the private sector in development cooperation was highlighted. "Both sides applauded GIZ for different cooperations with companies in the areas of value chain and quality improvement, branding and export promotion", mentioned Dr. Guenter Riethmacher, Country Director of GIZ.
H.E. Chhieng Yanara complimented Germany for its support of Cambodia's development while the BMZ emphasized its appreciation for the progress achieved within the country and the fruitful cooperation in its priority areas.