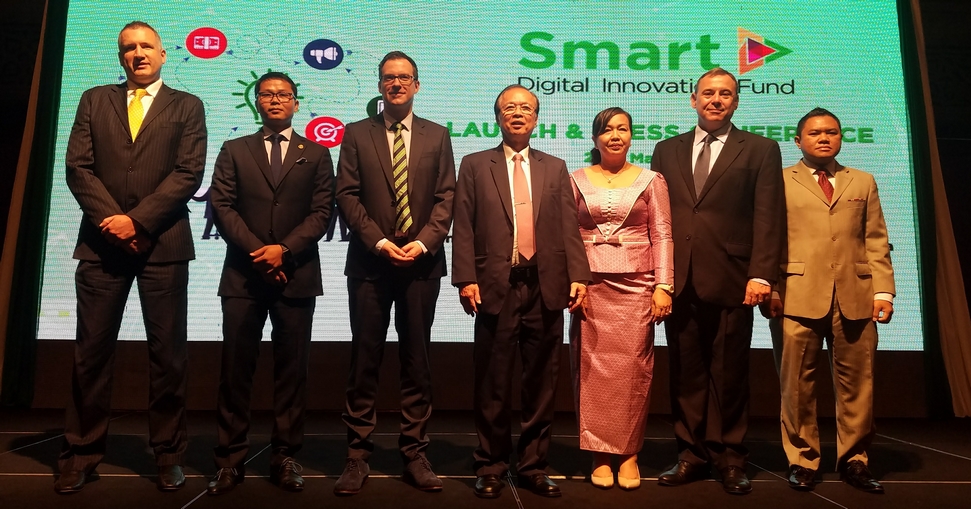 On March 28th, Smart Axiata launched a 5 million USD venture capital fund for Cambodian-based digital service companies and start-ups. This latest initiative from Cambodia's leading mobile telecommunications company was announced during the launch ceremony in presence of H.E. Tram Iv Tek, Minister of Ministry of Posts and Telecommunications Cambodia (MPTC), inter-ministerial government stakeholders, Ambassadors and various representatives from Cambodia's tech community.
The Smart Axiata Digital Innovation Fund has been devised by Smart in partnership with investment and advisory firm Mekong Strategic Partners (MSP). The Fund seeks to invest in ideas and businesses in the digital ecosystem to spark the development of a robust digital economy that will help grow Cambodia as a whole. While the number of Cambodian digital entrepreneurs has mushroomed in recent years, there has not been a dedicated fund available to invest in these businesses – both in terms of cash and expertise.
Thomas Hundt, Chief Executive Officer of Smart, was thrilled to unleash the potential of this Fund – one of many more upcoming digital endeavors by the company as it continues to be a key development partner in Cambodia's ICT sector. "Today, a new chapter in Cambodia's digital journey is about to start as we anticipate that the Fund will kick-start the next wave of digital growth. We are looking for companies or entrepreneurs in the technology space, related to sectors such as financial technology, digital commerce, entertainment, social media, advertising, education and healthcare. These disruptive models will not only complement our first class networks, but will make Cambodian lives easier and more connected," Mr. Hundt said.
Individual investments from the Fund will vary from 25,000 to 500,000 USD according to the stage, industry and funding requirements of each business. In addition to financing, the Fund will provide support for start-ups and businesses through mentoring, knowledge sharing and business development. Potential investees will also gain insight into marketing, branding and other critical business processes leveraging on Smart's strengths to create and realize value that has so far remained untapped.
"We will make sure we follow through on our investments by ensuring the companies and businesses we support have access to all our expertise, not to mention our base of over 8 million customers who are already using digital services in their everyday lives," Thomas Hundt added.
The Fund will be managed by MSP, from the initial identification of potential investment opportunities right through to post investment growth. "We believe there are significant opportunities for businesses in the tech sector, and we are excited to be launching this tech fund together with Smart," said Stephen Higgins, Managing Partner at MSP. "We will invest in early-stage and growth-stage companies. We are also looking for high performing tech firms with big aspirations, that have successfully launched their tech product or service and are looking to scale up," he noted.
The attendees at the launch of the Fund were enthusiastic about the new possibilities for many aspiring and forward-looking digital entrepreneurs in Cambodia. This sentiment was echoed by H.E. Tram Iv Tek, Minister of MPTC who said, "In this era of 'digitalization of everything', there is already a lot of creativity and disruptive thinking about technology and digital services in Cambodia. The Royal Government of Cambodia is committed to support this as part of our focus in developing the ICT economy for all Cambodians. As important stakeholders in the sector, we should focus our attention on identifying collaborative opportunities and best practices for inclusive technologies that shall render much needed progress towards the realization of a truly connected community here in Cambodia."
H.E. Tram Iv Tek also congratulated Smart for launching this Fund which is in line with MPTC's ICT Development Policy 2020 and looked forward to the fruits of this latest initiative: "The Royal Government of Cambodia immensely welcomes the launch of the Smart Axiata Digital Innovation Fund. Smart is one of our key development partners in Cambodia's digital journey and we appreciate their support through initiatives like the Digital Innovation Fund and SmartStart which provides significant practical and financial backing for our digital pioneers. I am optimistic that this Fund will generate more national Digital Talents and contribute towards spurring Cambodia's digital innovation and economy," H.E. Tram added.
The Smart Axiata Digital Innovation Fund is one of the various avenues opened by Smart to enable aspiring entrepreneurs and promising businesses to grow. Initiatives like the recent SmartStart: Young Innovator Program as well as partnerships with incubator hubs and awareness programs will collectively contribute towards accelerating digital start-ups and innovation opportunities in the coming years.
For more information on the Fund, visit www.sadif.com.kh.