Posted on: December 2, 2016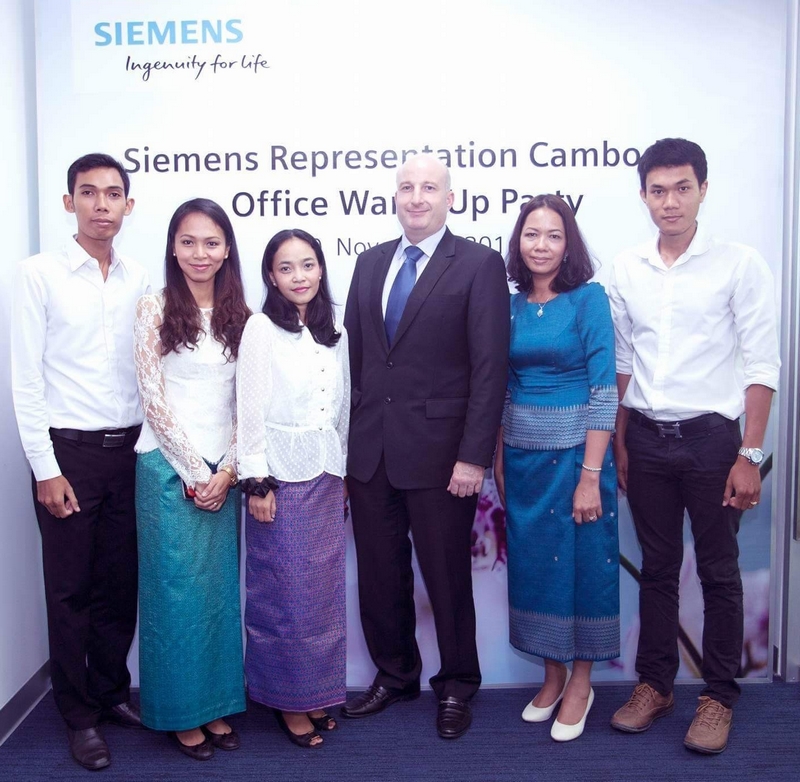 Siemens AG, Europe's largest engineering company, comprises eight divisions including Power and Gas, Wind Power and Renewable, Power Generation Services, Energy Management, Mobility, Digital Factory, Process Industries & Drives, and Building Technologies in just own group of companies. Siemens Rep Cambodia, a Representative office of Siemens Limited, is one of the longest-running affiliate company of a German enterprises in Cambodia. In November, Siemens Representation Cambodia inaugurated its new premises in Phnom Penh. On this occasion, the German Business Group (ADW) interviewed Mr. Markus Lorenzini, President & CEO of Siemens Limited Thailand, Myanmar and Cambodia.
Siemens is not only one of Germany's biggest enterprises, but also with a long history of business operations in Cambodia. What are your experiences so far in here?
Globally, Siemens has been a powerhouse of electrical engineering for more than 165 years, providing technologies and solutions for Sustainable Energy, Intelligent Infrastructure and the Future of Manufacturing. Siemens has started its footprint in Cambodia in 1998, with focus on supporting the country's infrastructure and businesses in Energy Management, Digital Factory, Process Industries and Building Technologies. As a trusted partner for the development and extension of the country's efficient and reliable power infrastructure, we provide utility companies and industries with the portfolio that meets their needs on Energy Management. This includes facilities and systems for the low-voltage and distribution power grid level, smart grid and energy automation solutions, power supply for industrial plants, and high-voltage transmission systems.
What further services and products do you offer?
Our Digital Factory, Process Industries and Drives are one of the core businesses of Siemens. We support customers in continuously improving the reliability, safety, and efficiency of their products, processes and plants. We are also working closely with local partners for many projects here in Cambodia with our comprehensive portfolio of Building Technologies including fire safety, security, building automation, heating, ventilation and air conditioning (HVAC) as well as energy management products and services. We support our clients as a technology partner, consultant, service provider, system integrator and product supplier for commercial, industrial and public buildings and infrastructures.
Siemens is keen to expand its operations in Cambodia. What are your main objectives during the upcoming years?
Siemens commits to supporting the Cambodian government in building the country's infrastructure in terms of Sustainable Energy, Intelligent Infrastructure and Future of Manufacturing. We are ready to support all projects that we are capable to offer the best solutions and technologies. We also believe in building local competencies in terms of developing experts in various fields, especially in electrification, automation and digitalization. We have continuously provided trainings to engineers at Electricité du Cambodge (EDC) on energy management subjects. We are also currently in discussion with various educational institutions to provide support and training in electrification and automation to students. We wish to expand our education-related initiatives even further in the future.
Cambodia is an emerging market with the intention to further industrialize its economy. Is the country already a potential manufacturing base for Siemens?
We have no immediate plans to set up our own manufacturing plant in Cambodia, but we are always open for such opportunities when the resources and the needs arise. Cambodia has made impressive achievement in its economic development, with an annual growth of 7.7% on average between 1993-2013, making it one of the fastest-growing economies and ASEAN and Asia. This has contributed significantly to reducing poverty and propelling the country to become a lower-middle income country. With these achievements, there is still a need to put emphasis in building this country's skill and manpower, physical infrastructure and electrification capabilities. Siemens is more than ready to support the government in these initiatives when we have the technologies to.
As country manager for Cambodia, Myanmar, and Thailand, you might be able to compare these countries from the perspective of an entrepreneur. Do you think there will be a deep impact by the ASEAN Free Trade Area on the economic relationship of these three countries?
Cambodia and Myanmar are both important growth markets, especially in terms of infrastructure, energy and industrial development. I believe that AFTA will foster trade within ASEAN, making the region more competitive, attracting more foreign direct investment to the countries. We are optimistic that Cambodia will be able to position itself well in certain export markets. However, as mentioned, there is still the need for the development of a solid infrastructure and reliable electricity supply. This is where Siemens has the technologies and expertise to help Cambodia grow.
Cambodia has a very young workforce and a noteworthy number of university students. Like in other countries, young people sometimes find it difficult to choose their field of study. What qualifications and skills are necessary when people want to work for Siemens? For what are you looking in recruiting?
Cambodia is a country with the largest percentage of young population with more than 50% below age of 24. A young workforce means having more innovative minds. It also means they are able to better leverage technology and increase efficiency- that benefits society and human progress. At Siemens, we believe that everyone has talents. For Siemens, matching talent with tasks produces competitive advantage. Siemens' talent management philosophy involves making sure that every employee is provided with the guidance and support to achieve their full potential. Our Learning & Talent Development program is viewed from a strategic perspective, to contribute to the growth and profitability of the company by providing our people with professional training and development necessary for job excellence and career advancement.
For more information, please visit Siemens' profile in our membership database: http://adw-cambodia.org/our-members/10-siemens-representation-cambodia.html.