Posted on: February 28, 2022
Online Event Invitation
Seizing Local Opportunities –
Meeting International Expectations
Is the Cambodian Private Sector Ready for New Due Diligence Requirements?
Join us virtually on March 16th, 2022, 3.30 pm – 5 pm ICT!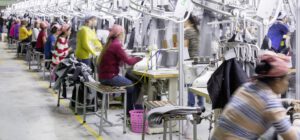 There has been growing momentum worldwide among govern­ments, businesses, investors and civil society for mandatory human rights and due diligence (HRDD). Some European countries like Germany, France, and the Netherlands have already moved ahead and have adopted national legislation, obligating companies to effectively prevent human rights violations in their entire supply chain. HRDD is also gaining ground at the level of the European Union with hard legislation expected to follow in the foreseeable future. Thus, on a global scale, the complexity of legal requirements for companies – including suppliers outside the EU – is increasing. The latter are often integrated in more complex value chains as first, second or third tier suppliers and larger companies may choose to pass on their requirements directly to them – and exclude them from their supply chains in case of non-compliance with national or EU regulations. Join us to learn more about recent developments in HRDD and explore how you can prepare your business accordingly!
Please register using this link!
Agenda
3:30 pm ICT
Opening and Welcome
Mr. Tom HESKETH, Deputy Director, EuroCham Cambodia
3:35 pm ICT
Mandatory? Human Rights and Due Diligence from a Legal Perspective
From UN-Guiding-Principles to European/German due diligence laws
Dr. Phillip EHRING, Lawyer at branmatt legal
3:50 pm ICT
Sustainable Supply Chain Management – how can it be achieved?
Drivers, dimensions, measuring and reporting of sustainable supply chain managements
Prof. Dr. Peter FRANKE, Kiel University of Applied Sciences
4:00 pm ICT
Impacts of Due Diligence Legislation on the Private Sector Today
Consequences of due diligence legislation – Examples from Europe
Mr. Wilfried KROKOWSKI, Kiel University of Applied Sciences
4:10 pm ICT
Q & A Session
4:25 pm ICT
How prepared is the Cambodian Textile and Garment Sector for Due Diligence Requirements?
Key insights from a needs assessment study and priority topics for due diligence
Ms. Luisa GENTILE, Advisor, EuroCham Cambodia
4:55 pm ICT
Closing Remarks
Ms. Kristin SOMMER, Advisor, FABRIC Asia, GIZ
Moderator: Mr. Christoph Janensch, Business Scout Cambodia, GIZ/GBC
The webinar is organized by Deutsche Gesellschaft für Internationale Zusammenarbeit (GIZ) GmbH on behalf of the German Federal Ministry for Economic Cooperation and Development (BMZ) in cooperation with the European Chamber of Commerce Cambodia and its national chapter German Business Cambodia (GBC), as well as Steinbeis School of International Business and Entrepreneurship (SIBE).