Posted on: October 29, 2017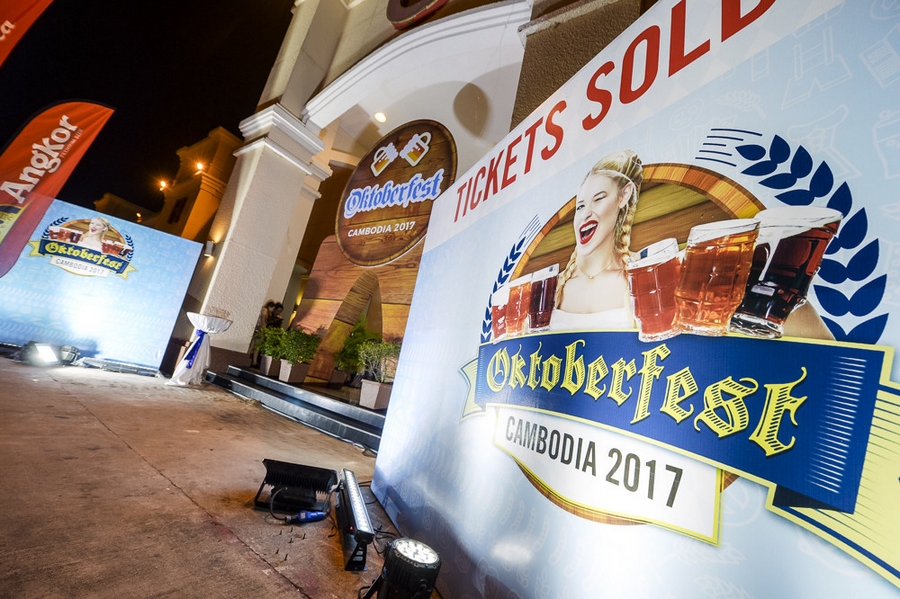 Fired up by an original, 5-piece Bavarian Band flown in from Munich, thousands of Cambodians, Germans and many guests form dozens of other countries enjoyed the German interpretation of cosiness at the 2017 Oktoberfest in Cambodia. Over 2,500 visitors attended the festival during two days on Phnom Penh's Diamond Island.
With an entrance price of only $7 (or 10 with a free drink / food voucher) this year's entrance fee was significantly lower than in 2016. "We wanted to open up and make this great party more accessible to more Cambodians, who we want to share the German party and beer culture with", says Tassilo Brinzer, president of the ADW who hosted the festival. "We took a bit of a risk as we changed the location and overall concept of the event, but it has proven itself and everyone was really happy". Many of the ADW members participated either with a sponsorship or with large groups of staff, namely Smart, Cosmos Services, Bayer, Porsche, Audi, GBC and TUV Rheinland.
German beer was available from Hofbraeu and Hops Craft Beer, complimented by Angkor, the main event partner, Carlsberg Beer and of course, Jaegermeister.
"This was our best year so far and we really hope to welcome even more party-hungry Cambodians next year", says Brinzer. "It is a great opportunity to reach out and to show our networks that Germans are not only hard working, but also about having a great time with friends and colleagues. It's a fantastic occasion to meet peers and colleagues, partners and associates in a relaxed atmosphere – many friendships have started at the Oktoberfest".
For more information and photos, please check http://www.oktoberfest-cambodia.com/ or the Facebook page of the event.