Posted on: September 1, 2021
GBC and EuroCham Cambodia extend partnership with GIZ Business Scouts for Development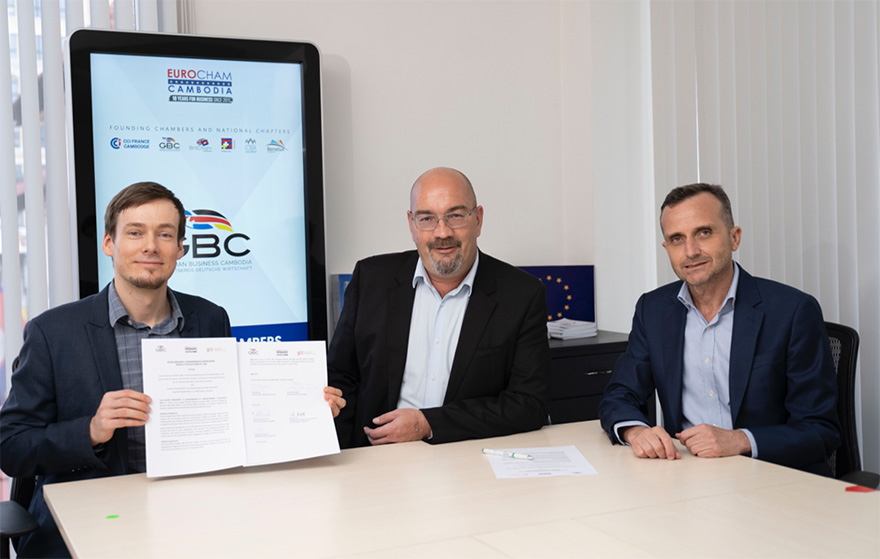 The GIZ Business Scouts for Development Programme (BSfD), formerly known as Global Business Network Programme (GBN), promotes a responsible cooperation of local and European companies through its Business & Cooperation Desks in Cambodia and other countries. The existing MoU between German Business Cambodia (GBC), EuroCham and GIZ has been renewed and extended until the 31st of December 2023.
In Cambodia, the GIZ Business Scouts for Development Programme is embedded within the GBC space at the EuroCham Cambodia office and since June 1st, 2021, Mr. Christoph Janensch has taken over the tasks previously managed by Ms. Bianca Untied. The programme is being implemented by Deutsche Gesellschaft für Internationale Zusammenarbeit (GIZ) GmbH on behalf of the German Federal Ministry for Economic Cooperation and Development (BMZ).
Business Scouts for Development work as development policy experts in around 40 countries all over the world. In close collaboration with partners from business associations and institutions, they advise German, European and local companies on development policy matters and promote responsible business engagement through cooperation projects.
"We are glad that we were able to extend this successful cooperation formally for another two and a half years. This is a very close partnership between the three most important parties for economic growth within the German, European and Cambodian business networks: the BSfD, which is structurally closely linked with sustainable German and European development policies; the GBC and EuroCham Cambodia, two key drivers of business networking, trade and investment support and advocacy in Cambodia; and ultimately, the Cambodian and German/European companies and investors who are looking to grow their business ties and imports and exports between Europe, Germany and Cambodia", says Tassilo Brinzer, president of the GBC.
"The BSfD is also an instrument providing support from Germany to help accomplishing the Sustainable Development Goals (SDGs) in Cambodia through private sector engagement. This week's Waste Summit Cambodia 2021 is a good example of how we all work together for a common cause and goal. We look forward to continuing the constructive work of the past years, and to extend our support to the GBC, EuroCham and the business community", says Christoph Janensch.