Posted on: February 26, 2019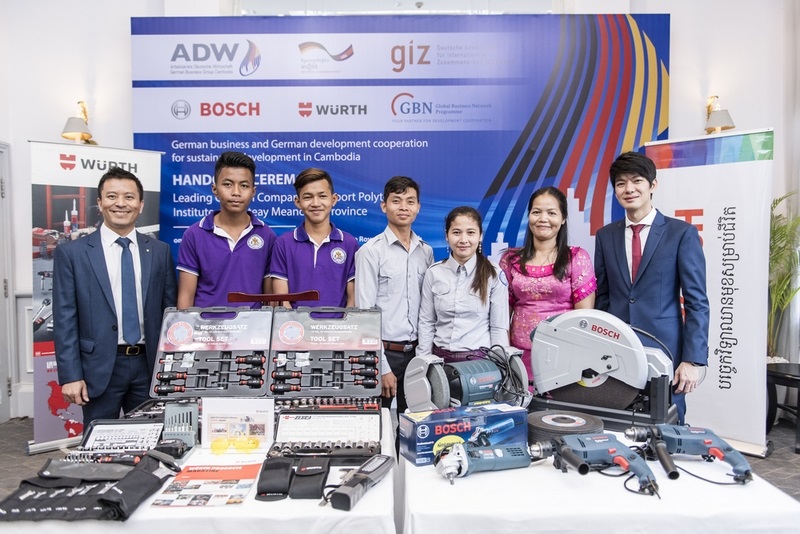 Würth and Bosch, two renowned German companies, are going to support the Polytechnic Institute of Banteay Meanchey Province by providing a range of modern tools and machines for its vocational training facilities. The initiators of the cooperation are the GIZ's Regional Economic Development Programme (RED) IV and ADW – German Business Group Cambodia.
RED supports vocational training in many provinces and assists the centers with German expertise. "The sponsorship of tools by Würth and Bosch is an excellent example how German companies can pro-actively support vocational education in Cambodia. The economy is changing and so will the requirements for technical and vocational education and training", said Stefan Hanselmann, head of the RED programme.
ADW serves as a first entry point for German companies and brands who wish to set foot in Cambodia to start operations either in manufacturing, distribution or services. Operating in close cooperation with EuroCham Cambodia, ADW offers its members and partners insight and access to its network in the fast-growing Cambodian economy. "We are glad that these global leaders in their industries are able to support vocational training in Cambodia, which has always been an important part of our support ambitions in Cambodia", Tassilo Brinzer, President of ADW – German Business Group in Cambodia, said at the handover ceremony at Raffles Hotel Le Royal on February 21st. "Training young professionals in important areas such as the automotive sector is a long-term program that will attract more investment and businesses as companies will be able to find better trained and qualified workers. We are looking forward to more, similar partnerships in future. For this reason, we established the Business & Cooperation Desk together with GIZ last year."
Please visit ADW's membership directory for additional information about Bosch and Würth.