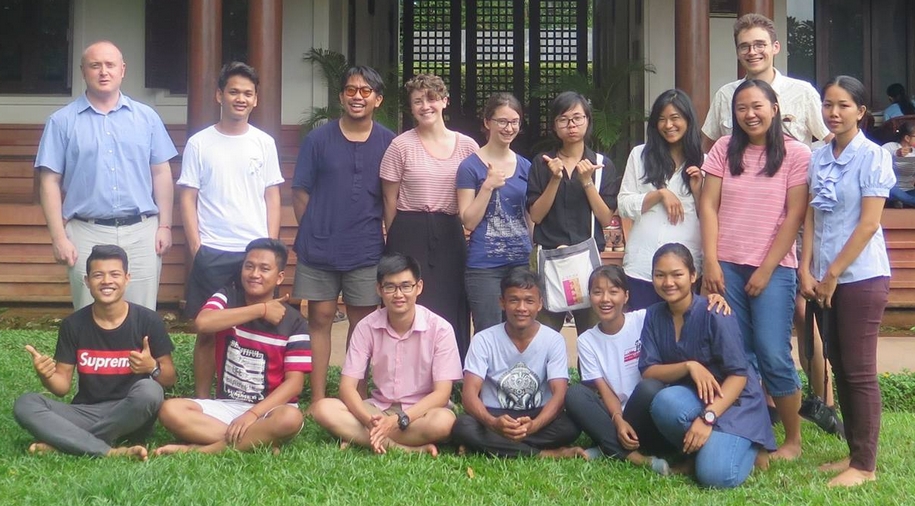 On July 1st, the annual Summer Junior Fellowship Program commenced at the Center for Khmer Studies, the American Research Center in Cambodia. During the next six weeks, Cambodian undergraduates along with international students study contemporary Cambodia, especially the political system, the Kingdom's foreign relations as well as the dynamics in economics, society, and culture. The program is mainly implemented by Dr. Markus Karbaum, one of Germany's leading political scientists regarding coeval Cambodia and a specialist in personnel development.
Beyond the academic scope, the program offers Cambodian students a unique opportunity becoming acquainted in an international educational setting. "From this perspective, the summer school is an ideal approach for human resources development that is still widely underdeveloped in Cambodia. Therefore, I focus on improving the students' capabilities in autonomous thinking, methodological working, as well as their analytical skills", Dr. Karbaum states. According to numerous international managers, Cambodian employees, albeit graduated, lack exactly these abilities. "This does not have to remain in future. Many young Cambodians have the potential which just has to be unlocked by efficient education and training. With innovative concepts tailored to the specific Cambodian conditions, any investment in this direction will pay off, sooner or later", Dr. Karbaum is convinced.
As part of the program, students will visit the European Chamber of Commerce to receive first-hand information about prevalent skills candidates should bring along to meet employers' expectations. Further insights are presented by several guest speakers from different backgrounds.
For further information, please visit http://www.adw-cambodia.org/our-members/51-dr-karbaum-consulting.html