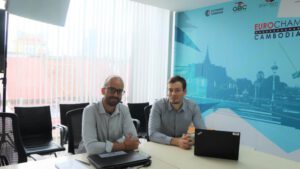 This week, EuroCham interviewed Mr. Christoph Janensch, GIZ Business Scout for Development at EuroCham Cambodia. Mr. Janensch shared his thoughts on the investment climate in Cambodia and nurturing partnerships between Cambodian and European businesses. In his 2+ years at GBC, Mr. Janensch has accompanied Cambodian businesses to German trade fairs, overseen the publication of investment guides, and given countless presentations on a variety of current topics. Read more to find out how he views the investment climate in Cambodia!
EuroCham: You have been working at the EuroCham office for more than two years now as the Business Scout for Development for GIZ in Cambodia. What has the experience been like? 
Christoph: It has been a very fulfilling experience so far. I took over from my excellent colleague Bianca Untied, who was here from 2018 to 2021. Since then, I have been advising both local and European companies on various support programs that German Development Cooperation has to offer to them.
I believe our cooperation here with EuroCham and also with German Business Cambodia is a very good example of German development cooperation and business chambers working hand-in-hand to foster the development of local economies.
Me working at and in close cooperation with EuroCham is a similar construct that the GIZ Business Scouts for Development Programme is implementing all across the globe. We have Business Scouts in about 25 countries, mostly working at German chambers, as well as 25 other Scouts working within Germany at local chambers and business associations. Using the resources of chambers and combining them with the support programs of development cooperation has proven to be a very successful and powerful tool.
EuroCham: Your role encompasses many different aspects, from moderating panels to accompanying business delegations traveling between Germany and Cambodia. What part of your work do you find most enjoyable or satisfying? 
Christoph: Being an advisor, I enjoy the freedom to engage with companies and to focus on concrete issues they have and help them solve them. At the same time, I am also able to kickstart own projects, events and initiatives. In that sense the position of GIZ Business Scout is very unique, because we are part of both worlds – working for a development agency and also being part of a business organization.
That being said, the Business Scouts Programme is focusing on a number of key issues in accordance with the priorities of our commissioning party, the German Federal Ministry of Economic Cooperation and Development (BMZ). These are climate change, sustainable supply chain management, and digitalization. Further topics that are especially relevant for my work in Cambodia are agribusiness and food industry, waste management, as well as trade fair support. Business Scouts also work closely together with bilateral and regional GIZ programs: In fact, many activities here in Cambodia are carried out in such collaboration for mutual benefit.
On a personal note, the quality of life in Cambodia for the expat community is excellent in my opinion and escaping the dark German winter months is definitely a plus. The capital Phnom Penh has an ideal size which I prefer to cities like Bangkok or Beijing and all necessary goods and services are available here.
EuroCham: What sector do you think has the most potential for collaboration between Cambodia and Germany? 
Christoph: First, we have to acknowledge that Cambodia is a relatively small market. That means German companies are often not aware of the potential for trade and investment here. Neighboring Thailand and Vietnam also divert some attention away from Cambodia, in my opinion.
If we look at bilateral trade, of course, importing textiles, footwear, and bicycles from Cambodia is important for the German market, but little actual investment by German companies is being made in the country. If we look at China, Thailand, Vietnam, Japan, South Korea, and the USA, they all have much more investment going on than we do. The physical distance to Europe might be a factor, but this has not hindered Vietnam from attracting substantial German FDI. There is, however, potential for German companies in Cambodia – for example, in the premium agricultural sector. Higher electricity and transportation costs in Cambodia can be mitigated by targeting organic or other premium markets in Europe with a consumer base willing to pay more for sustainable products. Growth in Cambodian manufacturing of electronics and electrical equipment has also been staggering, though Europeans have not yet capitalized much on this development either.
There is of course also a lot of demand for mechanization here and German engineering is top of the line. However, the financing of such machinery is often a problem for SMEs which might resort to buying cheaper Chinese or Vietnamese products. Thus, opening a local sales office for a large German machine or heavy equipment manufacturer would require some consideration of both the relatively low local purchasing power as well as the competition from these markets. Going via a local distributor might be a viable option.
Having said that, I am closely involved with German Business Cambodia, one of the national founding chapters of EuroCham, and I have met a lot of German companies who are active in Cambodia and who are doing well. They all have found their niche, and as Cambodia will continue its development and graduate from its least developed country status in the near future, the conditions for doing business will further improve. Out of the European community, only the French – due to historical reasons – have a stronger economic engagement in the country.
EuroCham: You accompanied 11 Cambodian companies to Biofach, the biggest organic trade fair in the world, last year in Germany to promote Cambodian exports. How did that go and what did each side learn from the other? 
Christoph: Yes, we had a very interesting and intensive trip to Nuremberg and beyond to visit the fair. The Cambodian SMEs had the opportunity to network and take part in more than 50 B2B talks with German and European buyers. Their main commodities were cashew nuts, pepper, and dried fruit. Subsequently, we also went to visit buyers in other German cities before returning to Cambodia. It was wonderful to see the professionalism of the Cambodian companies and their progress in complying with European regulations in terms of certification, documentation, and labeling. It was also a great opportunity for showcasing and making buyers more aware of Cambodian products.
For some participants it was their first time to visit Europe. We had a wonderful time after the official activities as well, and the Cambodian company representatives were very happy to dive into German culture, including German beer and bratwurst!
EuroCham: What upcoming events or initiatives are you working on for the rest of the year? 
Christoph: A big advantage of my cooperation with EuroCham is the grant agreements that we have signed. Thus, many upcoming events and activities are carried out jointly with EuroCham. We will be hosting a German delegation visit on waste management and resource recovery at the end of October in Cambodia, for example. Seven companies have signed up and they are eager to meet with local governments and other companies in the Cambodian waste sector for joint projects.  It is also a chance to bring German technology to the Cambodian waste sector.
Further activities include several publications that we are doing together with EuroCham. We have six brochures on Sourcing from Cambodia in the making as well as a sector brief on the local electrical and electronic equipment Industry. We will also host several events, including webinars for German companies to help put Cambodia on the map.
Together with EuroCham, the GIZ Business Scouts for Development Programme will continue fostering the development of local SMEs as well as promoting Cambodia as a trade and investment destination for European companies. German Development Cooperation is an ideal partner for companies striving for sustainable commitment in Cambodia.