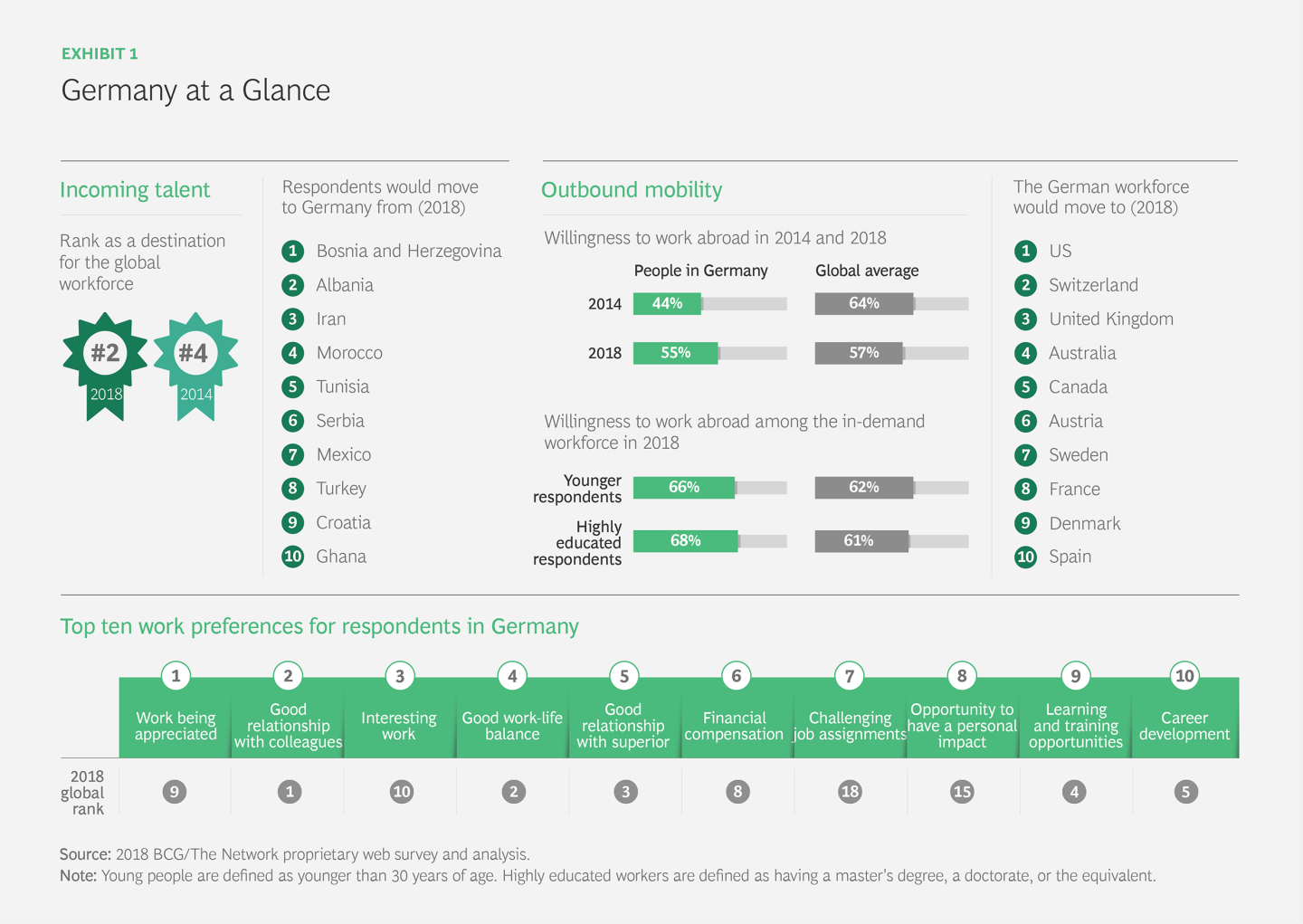 In a change partly propelled by geopolitics, Germany is now the most popular work destination in Europe and ahead of every other country in the world except the United States. Presented by The Boston Consulting Group and the online international recruitment company The Network, this finding bases on one of the largest surveys ever of labor trends and work preferences with 366,000 interviewees in 197 countries.
Germany's ascent to the number-two spot comes at a time when the world's enthusiasm for working abroad has diminished overall. The drop in enthusiasm is at least partly rooted in the more restrictive approach to immigration that several major economies have been taken or are considering. Germany, by contrast, has presented itself as highly welcoming to people from other countries, and this – combined with a booming economy – goes a long way toward explaining the country's climb in the workplace destination rankings since 2014, when it was fourth.
Besides bypassing the UK, Germany has jumped past Canada and put more distance between itself and other top European destinations. Its number-two ranking in the world means Germany is now five places ahead of France, six places ahead of Switzerland, and seven places ahead of Italy.
In reality, it isn't as easy to start working in Germany as some people believe – it can take a lot of time for nonnatives to get work authorization. But over the last few years Germany has acquired a reputation for being much more open to immigrants than other places in the West. For those who get past the red tape, there are indeed a lot of opportunities.
Among them are the large number of technical jobs in sectors like automotive manufacturing and chemicals, many of them at well-known international companies. These jobs explain why Germany is the most popular destination among respondents in manufacturing or engineering positions. The country is number two – after the US – among people younger than age 30, among those with master's and doctoral degrees, and among digital experts.
People don't even necessarily have to speak fluent German to get by in the country. In Berlin – which is now the third most popular city for work, after London and New York – business is often conducted in English. Among the alternatives are Munich, with its cultural attractions and a rank of 23 among city destinations, and Hamburg, with a rising startup scene of its own and a rank of 32.
This text is an excerpt based on https://www.bcg.com/publications/2018/germany-rises-to-number-two-as-work-destination-global-talent.aspx. For more findings, please visit https://www.bcg.com/publications/2018/decoding-global-talent.aspx.