Posted on: October 6, 2019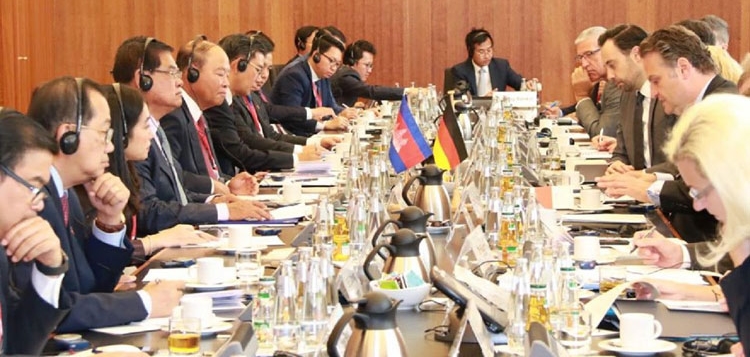 During the visit of a Cambodian inter-ministry senior delegation led by Minister of Interior and Deputy Prime Minister Sar Kheng to Germany from September 24th to October 1st, both countries have agreed to strengthen bilateral cooperation to improve human rights and development in education, health, forestry management, public order and security management. Mr Kheng was accompanied by Health Minister Mam Bun Heng, Education Minister Hang Chuon Naron, Environment Minister Say Samal, and Chhieng Yanara, Minister Attached to the Prime Minister.
Cambodia also requested the German Federation to cooperate in combating all kinds of cross-border crimes and asked Germany to buy some of the Kingdom's carbon credits earned from preserving its natural resources. In addition to bilateral talks, Cambodian delegates participated in a field study to look into the German Federation's administration at the district and commune level to better understand sub-national level administration. Administrative infrastructure, rights, duties and obligations as well as public service in sectors such as education, health, waste management, and natural resource management were among topics the Cambodian delegates studied.
Furthermore, both countries exchanged ideas on strengthening and improving the developmental partnership between Cambodia-Germany and Cambodia-EU. While Mr. Kheng also met some handpicked followers of the ruling Cambodian People's Party (CPP) in Germany, other members of the Khmer diaspora took the opportunity for demonstrations for democracy and human rights in Cambodia.
According to statement released by the Cambodian Ministry of Interior, Mr. Kheng informed the leaders of the Bundestag and its committees about EBA resolutions with the European Union and emphasised that Cambodia wants to keep the trade preference and also maintain good relations with the European Union and all other countries. The Deputy Prime Minister also told the Germans that Cambodia had learned from past experience that regime change can push the country into civil wars.