Opening Ceremony at Cambodia-Japan Digitalised Manufacturing Centre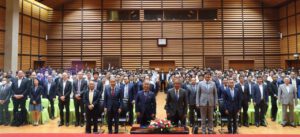 On May 24, 2023, the Cambodia-Japan Digitalised Manufacturing Centre (CJDM) celebrated its Open House ceremony on the campus of the Royal University of Phnom Penh (RUPP). The ceremony followed the recent establishment of CJDM in December last year and was attended by Minister of Education H.E. Dr. Hang Chuon Naron, Japanese ambassador Atsushi Ueno, RUPP rector H.E. Dr. Chet Chealy, as well as president of DMG MORI, Dr. Masahiko Mori.
The Royal University of Phnom Penh is cooperating with Japanese-German CNC machine tool manufacturer DMG MORI to offer highly specialized training courses in engineering and manufacturing to future Cambodian engineers. Financed by the Japanese Ministry of Foreign Affairs, the company has provided several state-of-the-art machine tools to CJDM for prospective graduates as well as employees of several private companies to gain invaluable practical experience. This includes high-end turning and mill-turn machines, as well as Directed Energy Deposition (DED) technology for additive manufacturing.
"These machines are among the most advanced in the world", says Mr. Sebastian Plau, Head of International Cooperation in Education at DMG MORI Academy, who arrived from Germany for the occasion. "Only a selected few universities have this cutting-edge technology at their disposal. Today it is mostly applied by leading manufacturers in various industries, including medical, where it is used to manufacture implants and surgical instruments, to name one example", he adds during a tour of the facility. "Transferring these technological skills and the know-how on their practical application to the young, highly motivated yet very cost-competitive workforce will add to the attractiveness of Cambodia as a manufacturing base for foreign companies" he concludes.
The CJDM's ambitious goals match its elaborate technical equipment: besides developing advanced human resources to boost Cambodia's manufacturing sector, the centre aims to become a hub for research and development in the entire ASEAN region. Its smooth technical operation is ensured by instructors from both Germany and Japan.
DMG MORI is the result of a successful Japanese-German partnership which began in 2009 when Germany's Gildemeister AG signed a cooperation agreement with Japanese machine tool manufacturer Mori Seiki Co. LTD. In 2013, both companies aligned their names to DMG MORI, and two years later the Japanese company became the majority shareholder of its German counterpart. Today, the DMG MORI brand operates 16 production plants and 113 sales and service locations worldwide, supplying customers in 88 countries.