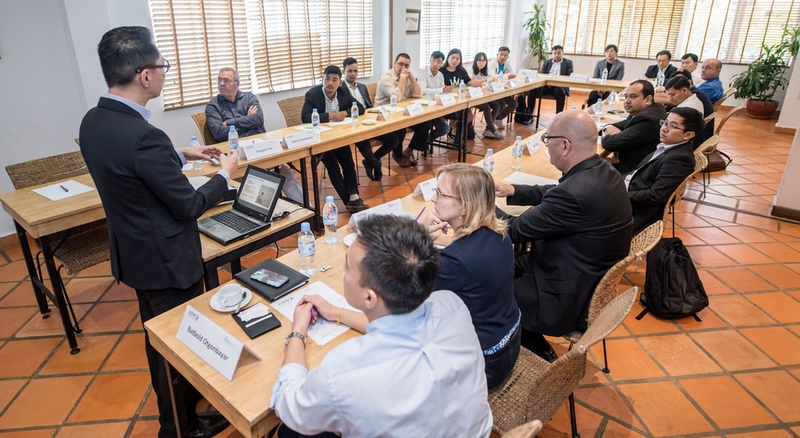 On February 25th the German Business Group Cambodia (ADW) and the Global Business Network (GBN) Programme welcomed Mr. Crispian Tan, Senior Director SAP University Alliance Programme, in Phnom Penh.
During an extended luncheon, representatives from the private sector, the Royal University of Phnom Penh, the Paññāsāstra University of Cambodia, the Paragon International University Cambodia, and the Institute of Technology of Cambodia discussed opportunities to close the gap between digital skills and market demand in Cambodia.
The SAP University Alliance Programme enables faculty to bring SAP software and SAP University Alliance curriculum into classrooms and academic research, to better prepare the next generation designers, developers, data scientists, makers, entrepreneurs and business leaders for the intelligent enterprise. Through a network of 3,500+ educational institutions across 113 countries, SAP University Alliance aims to develop critical skills for digital futures among academies, university students and young thinkers.
The German company SAP (the acronym represents "Systeme, Anwendungen und Produkte in der Datenverarbeitung" meaning "Systems, Applications & Products in Data Processing") is the world leader in enterprise applications in terms of software and software-related service revenue. Headquartered in Walldorf, Germany, SAP maintains regional offices in 180 countries with more than 330,000 customers. It is the most valuable German company in terms of market capitalization.