Posted on: November 15, 2021
GBC's Dr. Susanne Bodach leads EuroCham "Green Business Luncheon" with H. E. Sok Khavan, Ministry of Mines & Energy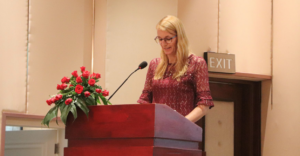 EuroCham held its 2nd Cambodian Insiders Luncheon – Green Business with H.E. Khavan SOK, Secretary of State, Ministry of Mines and Energy Cambodia on November 10th, 2021.
During the event, it became clear that renewable energy is becoming an increasingly important topic for the Cambodian economy. Attendants were updated by Mr. Sok on recent and upcoming policy changes in the energy sector in Cambodia, including the Power Development Master Plan 2020–2030, renewable energy projects in 2040, and Electricity Authority of Cambodia upcoming regulations and procedures on solar power utilities.
The GBC's Dr. Susanne Bodach, Chairwoman of the EuroCham Green Business Committee, shared informative updates on the impact of COVID-19 on Cambodia's private sector and green business industry, and discussed a range of policy recommendations on a more ambitious move toward cleaner energy in Cambodia.