Posted on: December 7, 2022
Much done – more to come in 2023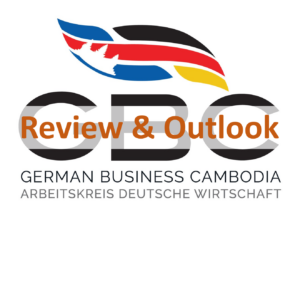 For GBC, 2022 has been characterized by a gradual normalization of activities in the post-pandemic world. Together with the GIZ Business Scouts for Development (BSfD) program and EuroCham, German Business Cambodia was able to implement meaningful ventures and contribute to a wide range of events.
Organizing an event for local companies on the benefits of the BMZ-funded develoPPP program was our first business initiative of the year, followed by two events on Human Rights Due Diligence (HRDD), organized with GIZ FABRIC. A pop-up fair with an integrated breakfast talk was organized in April with EuroCham, followed by a presentation at the trade fair AgriTechnica Asia in Bangkok to promote Cambodia as a sustainable location for agribusiness.
The highlight of the year was a one-week business delegation trip to the German organic trade fair Biofach, organized by GIZ/GBC and joined by 11 Cambodian SMEs who met potential German buyers. In August GBC partnered again with Konrad Adenauer Foundation to host a Business Talk at the popular Waste Summit Cambodia, which attracted hundreds of visitors. Besides contributing to further events in Q4 – such as SME Export Talk No. 7, a webinar on the potential in the organic farming sector, and a transnational event on the cashew nuts value chain, the GBC website has also seen some updates with a number of new publications. These include two new sector briefs on Handicrafts and the Organic Market, as well as a new "Export Guides" series drafted in collaboration with EuroCham, with six editions so far.
"The GBC, EuroCham's German chapter, is looking back at an eventful year in 2022 that has opened new and valuable partnerships while expanding our existing collaborations. In GIZ, we have a strong partner and an aligned vision for the support of Cambodia's economy, and we look forward to our continued cooperation: both by promoting Cambodia as a business destination for German and European companies, and supporting local SMEs in getting ready to supply the German market", says Tassilo Brinzer, president of GBC and chairman of EuroCham.
Plans for 2023 foresee an expansion of the publications series "Sourcing from Cambodia" and the Sector Briefs (with the latest one on Electronics already in the making), as well as
A publication on Cambodia as an alternative (+1) manufacturing destination and
a guide to Special Economic Zones, targeted at European companies
The successful Export Certification Support Program will also see a second round of applications in collaboration with EuroCham, and trainings on investor acquisition and financing will follow by mid-2023. A German trade mission to Cambodia focussing on clean tech and agri-tech is planned for the second half of the year.
"We are positive that despite the ongoing Ukraine crisis the year 2023 will add an even greater impetus to our work. While many European companies have entered a phase of consolidation, Cambodia remains an open and welcoming market" says Mr. Christoph Janensch, GIZ Business Scout for Development at GBC/EuroCham. "Our pipeline for next year is filled with exciting activities and publications – stay tuned for more!", he adds.