Posted on: December 6, 2022
Grant Agreement to support SMEs with export promotion and attraction of investments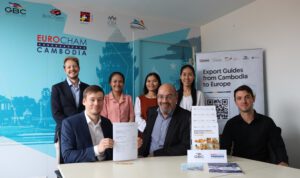 Building on the successful 4-year partnership with the GIZ Business Scouts for Development (BSfD), EuroCham Cambodia signed a new 100k € Grant Agreement in support of Cambodian SMEs. Activities carried out for BSfD under the grant include a new phase of the successful SME export certification sub-grant program, and the publication of six additional product & supplier brochures promoting local SMEs. The grant is breaking new ground by supporting local SMEs to build capacity to access and secure international investors. Another of the new focus areas includes the strengthening of ecotourism in the country.
GIZ Business Scout Mr. Christoph Janensch highlights that "EuroCham has proven to be an excellent and reliable partner that can leverage its extensive reach to open up new partnerships and support GIZ in promoting our private sector engagement initiatives".
The grant also foresees projects directed at a European audience, including a German Trade Mission to Cambodia and a webinar series on business opportunities in Cambodia. These activities aim to promote Cambodia as a sourcing and investment destination, and to enhance the image that Cambodian products have abroad, while advocating market exploration of German and European firms in Cambodia.
"We are excited to enter a new phase in our cooperation that greatly expands upon previous joint initiatives, such as the Sustainable Action Group, export readiness trainings, promotional events, and publications such as the popular Export Guides to Europe" says Mr. Tom Hesketh, Executive Director of EuroCham.
It is expected that these activities will not only benefit the private sector, but will positively impact the livelihood of suppliers, including small agricultural producers.