Posted on: October 22, 2021
EU Ambassador pledges to support EuroCham and strengthen private sector engagement during AGM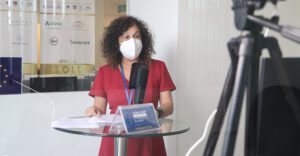 The Ambassador of the European Union (EU) to Cambodia, H.E. Ms. Carmen Moreno, has pledged to renew the EU's support to EuroCham Cambodia and to increase its engagement with the private sector in the country. Her remarks were made during the opening of EuroCham's Annual General Meeting (AGM), on Thursday 14 October, 2021.
According to Ambassador Moreno, EuroCham is one of the EU's most trusted and valuable partners. The two organisations, she continued, share the same values and interests in key sectors, including fostering business environment, trade facilitation, green business, and the upgrading of skills. Appreciating EuroCham's contributions to business advocacy and outreach, she concluded that the EU will be looking into ways to continue supporting and cooperating with EuroCham during the next activity cycle 2022 – 2027.
EuroCham has benefited from the institutional and financial support of the EU, such as being the recipient of the ICI+ SEBSEAM grant. The grant helped establish EuroCham as a leading business association in Cambodia, providing a crucial link between national authorities and the business community for advocacy, outreach and market services.
EuroCham's Annual General Meeting for the occasion was titled "Transforming for the Future", and hosted digitally. Similar to the other national chapters, German Business Cambodia seized the opportunity to summarize its activities from last year and the achievements made in 2021 so far, including the provision of various trainings, events and publications in support of the private sector.
The AGM concluded with the election of 4 new members for its Board of Directors, who will serve until the end of the mandate in 2022. The new board members are: Mr. Varabott Ho (Treasurer), Mr. Chheav Narath, Mr. Christer Horn af Aminne and Mr. François Schnoebelen.