Posted on: October 26, 2021
Cambodia reduces quarantine for vaccinated travelers in effort to boost international travel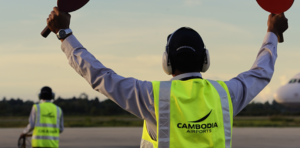 Photo: © Vinci Airports
The Cambodian government has announced a revision of its travel conditions, health measures and quarantine requirements for those entering the country. Starting from 18 October 2021, vaccinated travelers now face shorter quarantine periods when entering Cambodia, provided they meet certain safety requirements listed under the new measure.
This reduction initiates an opening of the country to international business travelers and tourists, and is highly anticipated by the Kingdom's key economic sectors such as tourism and hospitality that have struggled to make ends meet since the beginning of the Covid-19 pandemic.
The categories of travelers and resulting quarantine requirements are as follows:
Foreign travelers who are investors, business people, experts with guarantee or invitation – 3 days' quarantine;
General passengers, both Cambodian or foreigners – 7 days' quarantine;
Foreign diplomats and International Organization officers – 3 days' quarantine;
High-level international delegation and senior government officials returning from overseas missions (quarantine period as decided by the Royal Government);
Passengers who are officials returning from official missions abroad – 3 days' quarantine;
Other category of travelers who have not been vaccinated with Covid-19 vaccine or have not been fully vaccinated – 14 days' quarantine.
Besides shorter quarantine periods, important changes for travelers also include a reduction in the mandatory on-arrival cash deposit by 50%: for those needing to quarantine for 7 days, only 1000 USD are needed. Other legal requirements, such as presenting a negative PCR test and local health insurance on arrival remain in place.
The European business community has welcomed this move.
One final change sees Cambodia resuming its issuing of electronic visas in advance, to tourists and other travelers. It is currently not possible, however, to obtain visas on arrival as was the case prior to the pandemic.