Posted on: November 30, 2016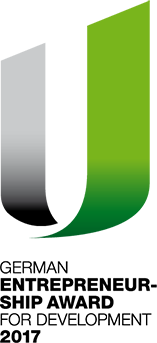 The Award honors entrepreneurial commitment which goes beyond ordinary overseas business activities and benefits local communities. It recognizes companies which, through their projects or innovative business models, have made a demonstrable contribution to one or more Sustainable Development Goals (SDGs) in developing countries or emerging economies.
There are two categories: the Business for Development price, worth 35,000 Euros, rewards measures and projects related to provision of training. The Innovation for Development price, which supports the awardee with 25,000 Euros, is granted for innovative products or services which promote sustainable economic activity and improve people's living conditions in the long term.
The two winners of the German Entrepreneurship Award for Development and recipients of the cash prize will be decided by an independent expert jury appointed by the CDG e.V., the Germany Federal Ministry for Economic Cooperation and Development and development agency GIZ as initiators of the award. The initiators will also have representation on the jury. The jury's decision will be based on the documentation submitted by the companies and the objectives of the award and subsequent, more specifically defined selection criteria.
The German Entrepreneurship Award for Development aims to raise public awareness of this entrepreneurial commitment. The prize money associated with the award is intended to provide fresh impetus for companies' ongoing developmental commitment by providing funding for specified projects and product ideas.
Application deadline is December 23rd, 2016. For further information regarding funding criteria, application conditions, the composition of the jury, and more please visit the award's website.